Do you wonder why your dog just has to chase squirrels, birds, cats, or maybe even cars? It is your dog's natural prey drive at work. Your dog's prey drive evolved in ancestral dogs that had to hunt to survive.
This prey drive still exists in most dogs today. In some dogs, however, the prey drive is very strong—strong enough to make walking your dog on a leash difficult and sometimes dangerous. If your dog is big and strong, it becomes even more dangerous for both of you.
To change your dog's behavior, you will need to integrate good leash walking practices. Understand that it will take some time, especially if your dog has a high prey drive. Here are some techniques you can use to make walking your high prey drive dog more pleasant for both of you.
Exercise Your Dog Before The Walk
The mere prospect of a walk with you elevates your dog's level of energy. Take the edge off of your dog's excitement by playing with your dog before you clip on the leash. Throw a ball, play with a toy, or find a way to let your dog burn off energy before you put on the leash and expect good behavior. For really high-energy dogs, engage in play or other forms of exercise for whatever period of time it takes to tire your dog out before you go for a walk. If you make this part of a regular walk routine, it will become easier and easier to manage your dog on the leash.
Once you have your dog on the leash, give it some time to sniff around and explore its environment. Your dog needs this chance to get itself mentally ready for the upcoming walk.
Plan to walk your dog until you notice your dog has relaxed and is walking along at the pace you set, rather than dragging you around wherever it wants to take you.
Anticipate Your Dog's Reaction To Distractions And Prepare
Because you know how your dog is likely to react to possible prey, you should take steps to keep your dog's excitement level low. That means you should
Establish a steady, forward-moving, quick pace.
Have a treat or toy in hand ready to distract your dog's attention before the excitement level becomes unmanageable. Start getting your dog's attention with them at least ten feet away from the prey.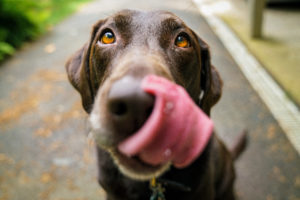 Know what best motivates your dog before you go on your walk. For some dogs, treat rewards are great. If your dog is picky, find out what it likes best. For other dogs, toys are more exciting. Sometimes treats work best one day but toys are better another day.
If your dog has a high prey drive, get in the habit of carrying both treat and toy distractions with you. Carry high-value treats with you for those moments when you know your dog is likely to lose control. High value treats that work best to distract many dogs are bits of dried meat. For dogs that are toy-motivated, try a squeaky toy.
Reward Good Leash Manners With Treats
As you walk, practice asking your dog to sit, heel, and pay attention to you when you ask for it. Be sure to give a treat to your dog whenever it shows good behavior while on the leash. In some cases, dogs automatically become more attentive to you when they know you have treats and toys on hand. These will help you regain your dog's attention if it gets distracted by anything it regards as possible prey.
Outfit Your Dog With A Properly Fitting Harness
A properly fitting harness will make it easier for you to manage your dog, and it puts less stress on your dog's throat. Make sure that it fits your dog and is secure enough that your dog cannot wriggle out of it. If you have a large dog, it is important that you get a harness that is heavy and strong enough to handle your dog's size and strength.
Consider a harness that has a leash attachment on the chest. Clipping the leash to the front of the harness, rather than at the ring on the dog's back, will help you if your dog tries to pull away from you. By attaching the leash at the front of the harness, you can pull your dog around to face you, making it harder for your dog to pull away from you to chase after prey.
Get Help From A Professional Dog Trainer
If these tips are not enough to manage your dog's high prey drive, do not hesitate to get professional help from a certified dog trainer. For the safety and security of your dog and for yourself, professional training can get you going in the right direction.
Use The Professional Dog Walking Service Available From Your Local Paw Pals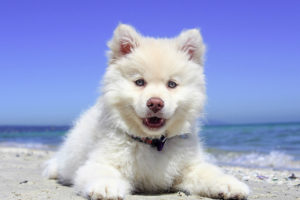 Walking a dog with a high prey drive can be challenging until your dog learns how to manage its impulses. It takes regular practice, and some owners find that getting the help of a dog walker from Paw Pals is the perfect solution. Their professional dog walkers have experience handling high prey drive dogs. Contact your local Paw Pals for more information about their dog walking services.