As the weather grows colder, it may be time to consider getting a heated bed for your dog. Heated dog beds are great for older dogs or smaller dogs that lose body heat easily, but during a cold Northern Virginia winter, a heated dog bed is great for any dog.
Heated beds are especially great for puppies; they can be a very comforting place for a puppy to sleep in the first few nights in your home, because the heat replicates the body heat of their littermates, who they would have been sleeping with every night.
Top Heated Dog Beds On The Market
Heated beds can help reduce joint pain in older dogs, which makes them great year round. In the winter, though, heated beds become even more important. Your dog cannot wrap themselves up in a nice blanket to keep warm on cold nights. Having a heated bed can make them a lot more comfortable.
Not all heated dog beds are created equal, though, so we have created this brief guide to the best heated dog beds on the market this year.
K & H Outdoor Heated Bed
It may say "Outdoor" in the name, but it is perfectly fine to use this bed indoors, too. It is label as an outdoor bed because it is also safe for outdoor use if you happen to have an outside-only dog.
It comes with a weatherproof and soft PVC cover for outside use, but it also includes a soft, warm fleece cover for use indoors. The mat itself is made from orthopedic foam for added comfort. The heating element is a steel-wrapped cord that is very safe and only draws 60 watts. A built-in thermostat prevents the heating element from exceeding your pets body temperature, so it will never get too hot.
K & H Thermo Snuggly Sleeper
This bolster-style dog bed is designed to make your dog feel safe and secure while it gently warms them. It comes in two different sizes, so it can easily accommodate most domestic dogs. The heating element only draws 6 watts, and will heat the bed to match your dog's body temperature for ultimate comfort.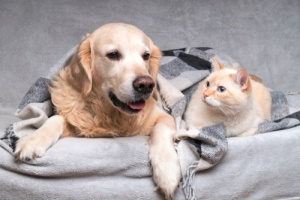 Both the cushion and the heating element are removable, so it is very easy to keep this bed clean. In fact, since the heating element is removable, when the cushion begins to wear out you can buy a new bed and place the heating element in it, saving you a lot of money when you have to replace the bed.
ALEKO Electro Thermo-Pad Heated Dog Bed
This plush pet bed comes with a six-foot long, chew resistant power cord for added safety. The self-regulating thermostat keeps it at the proper temperature for as long as it is turned on, so you never have to worry about the bed getting too hot.
The soft, thick cushions provide a lot of comfort and the fabric cover is water resistant, making this one an excellent choice for accident-prone dogs. This particular bed is also well-liked by cats, so if you have a cat you may want to go ahead and order a second one.
Aspen Pet Self-Warming Bed
Self warming beds are great because they do not require electricity. That makes them a great option if you have a dog who likes to chew, as it is possible (albeit unlikely) that a strong chewer could electrocute themselves by chewing on a heated bed.
This bed has a layer of mylar built in to the cushion that reflects your dog's body heat back to them, providing gentle, consistent heat without the need for electricity. It comes in different sizes, too, so you can easily find one that will be a perfect fit for your dog.
Riogoo Electric Heating Pad
This heating pad has precise temperature controls that allow you to set the temperature and time, so that the pad will automatically shut off after the timer is done. It comes in three different sizes, so you can buy one that will be an appropriate size for your dog.
The cloth cover is removable for easy cleaning, and the power cord is resistant to chewing for safety. It is made with waterproof materials, too, so it is suitable for accident-prone dogs.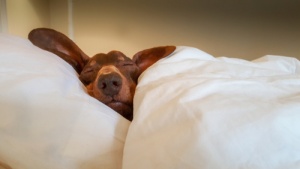 Any of these dog beds would be an excellent choice for your pet. All of them have standard safety features to prevent the bed from overheating or becoming uncomfortably warm, and most of them are waterproof and chew proof. In the end, much of the choice comes down to the size of the bed, the price, and aesthetics. You may also want to consider what kind of bed your dog prefers. Some dogs do not like soft, thick cushions and will do better with a thinner mat, for instance.
Speak To A Professional Dog Walker
If you would like more information on heated dog beds, or would like to schedule a professional dog walking service, contact Paw Pals today.