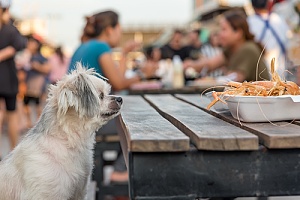 Summer is here and the weather is gorgeous. You likely want to get out more and walk through town, possibly grabbing a bite to eat along the way. Of course, if your dog is your constant companion, it can be hard to find a dog-friendly restaurant where the two of you can relax and enjoy a meal together.
Lucky for you, we've compiled a list of a few canine-friendly eateries in and around Centreville, VA, so you can kick back with your best friends and enjoy the day together. Whether you're going out for breakfast, lunch, dinner or dessert, these restaurants feature a variety of menu options, and will allow your pooch to stay with you while you eat.
Little Italy Ristorante & Deli
13850 Braddock Rd, Centreville, VA 20121
Dogs are more than welcome at Little Italy Ristorante & Deli's outdoor tables. Enjoy a casual Italian atmosphere and full Italian menu featuring fried appetizers, wedding soup, penne pasta, as well as your choice of hot, cold, or gyro sub sandwiches. They also serve wings, burgers, hot dogs, and various vegetarian options. Along with a kid's menu, and various sides (including seasoned fries, grilled veggies, onion rings, and more), you will have a hard time choosing what to have for lunch.
Glory Days Grill
13850 Braddock Rd, Centreville, VA 20121
Located right by Little Italy, Glory Days Grill is a sports bar-style restaurant with a lot of different foods to choose from. Featuring an expansive menu make up of burgers, subs and other American delights, Glory Days is perfect for dogs and humans alike. Order whatever you want from the menu and bring your dog with you to one of their 12 outdoor tables. Of course, with their huge portion sizes, you might want to bring a few friends to share a meal, or at the very least give some to your canine companion.
For those interested, Glory Days also has a gluten free menu for those with certain allergies. The restaurant also sponsors various local sports teams including Glory Days BOH Adult Softball, Faircrest Cyclones Swim Team, SYA Little League, and many more.
Sweet Frog
14215 Centreville Square Ste P, Centreville, VA 20121
When it is time for dessert, you and your dog should head on over to Sweet Frog for some sweet and tasty frozen yogurt. The location in Centreville has outdoor seating where they allow dogs to join their owners. Keep in mind, however, that Sweet Frog is self-serve, so you will need to leave your dog at the table while you go inside to get your yogurt.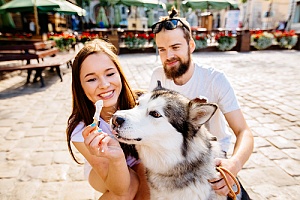 Flavors include apple pie, marshmallows, strawberries, chocolate chips, pineapple, various nuts, sauces, and more. They offer a wide array of flavors along with fat-free, low-fat, and no sugar added options. They even have a few non-dairy options as well. The best part is that frozen yogurt is also dog-friendly, so your faithful companion can enjoy a snack as well.
Chipotle
6317 Multiplex Drive Ste A, Centreville, VA 20121
Chipotle is a large Mexican grill franchise with locations all over the United States. The Centreville location allows dogs at their outdoor tables, so you can come and enjoy some of your favorite Mexican food while enjoying a day out with your dog.
They guarantee that all foods they serve are made fresh and healthy with unprocessed, and naturally raised ingredients. They feature burritos, tacos, salads, salsas, and more. You can also download and order from their app, which will earn you points towards a free entrée.
Planning a party or a summer barbeque? Contact them for information about catering.
Eggspectation
5009 Westone, Chantilly, VA 20151
Located just down the road from Centreville is a lovely little breakfast café called Eggspectation. This franchise was originally founded in Montreal and now have locations across the U.S. even India. Choose from a variety of foods on their menu, from crepes, soups, and salads, to omelettes, pasta, and chicken. They also serve coffee, freshly squeezed orange juice, their famous Eggs Benedict, and so much more. Though primarily a breakfast café, they have something for everyone.
They will allow you to have your dog with you while you eat at one of their outdoor tables. Relax and enjoy the sites of Chantilly VA while you eat your favorite breakfast food.
Conclusion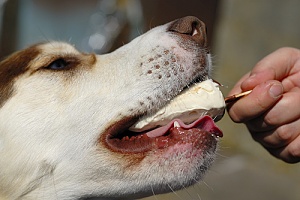 As we've seen, letting your dog join you for brunch or dessert in Centreville doesn't have to be so difficult. Find one of these great spots, order your meal, and grab a spot outside. Enjoy the warm weather, a delicious meal, and most important, the company and companionship of your dog!
Have any travel plans coming up? Give us a call at Local Paw Pals to request information about our dog-walking and sitting services.