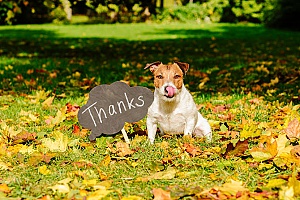 Thanksgiving can be extremely stressful if you're planning on hosting your family and friends. However, while some pet owners are focused on being a good host and cooking a delicious meal, they can sometimes neglect the dangers thanksgiving can present to their pets. It's possible that one of your house guests isn't aware of things that can be dangerous to pets and inadvertently harm them. For example, some dogs can be extremely anxious around large groups of people and may be very uncomfortable while your entire family is visiting your home. If you're going to stay at a relatives house, taking your pet with you may not be the best idea, but using overnight pet sitting services is a great alternative. Below are the top tips for how to ensure that not only do you have a great Thanksgiving, but your pet does as well.
Be Aware of Dangerous Holiday Foods
Many foods that people enjoy during Thanksgiving can actually be extremely dangerous for pets. While it's probably highly unlikely you'll avoid using them all together, take extra precautions to ensure that you keep the foods in a space your pet can't reach. One of the major foods you need to look out for is chocolate. This includes everything from cocoa powder to chocolate chips and candy; chocolate is the number one toxins that vets have to treat during the holidays. Be especially careful of baker's, semi-sweet, and other dark chocolate varieties as they are the most toxic for dogs and cats. If your pet ingests them, it can cause vomiting, hypertension, abnormal heartbeat, and seizures in even the most moderate amounts. You also need to be concerned about your pet finding their way to dirty dishes that have chocolate remnants on them, as the smallest amount can cause your beloved pet to get sick.
Decorations Can Be Deadly
While decorations can make a home come alive and truly capture the holiday spirit, they can also prevent hazards for your pets. Short of supervising your pets 24/7, the best way to prevent anything from happening to your pet is to be aware of decorations that present potential risks. Lights and candles can present a serious safety hazard for pets. Dogs can easily be tempted to chew on electrical cords of decorative lights, and cats could accidentally knock over a candle. When you're placing these objects in your home, be sure you're reducing their hazard risk by keeping them out of reach of your pets. Decorations like tinsel can be very attractive to cats. If they ingest it, it can bunch inside their intestines and cause serious injury that could require immediate veterinary care.
Avoid Holiday Plants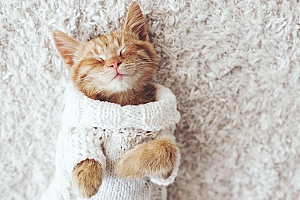 Christmas Lilies (or any kind of lily) are popular during this time of year, but they are extremely toxic to pets – especially cats, and can destroy their kidneys sending them into renal failure. Holly and mistletoe are other common plants found during this time of year that can harm your pet. Not keeping them in your home is the best way to prevent your pets from ingesting them. Consider booking a stay with an overnight pet sitting company so that your pet can avoid these types of hazards.
Watch Out For Accidental Escapes
As people are entering in and out of your home on Thanksgiving, it can be extremely easy for your pet to slip out the door unnoticed. This time of year can bring very cold weather and you don't want your pet running around lost in your neighborhood. To avoid this, you might consider gating your pet in a certain room or putting them in a crate.
Comfortable Pets Are Happy Pets
For pets that don't like to be around a lot of people, Thanksgiving can be extremely stressful for them. Some pets can have anxiety so severe that they don't eat or drink, which is certainly not good for them. This is a hard situation to navigate as you don't want your pet to be uncomfortable, but you also want to include all of your family during the holiday celebration. The best solution may be to book overnight pet sitting services for your pet from a dog sitting company that employs experienced pet sitters.
Book an Overnight Pet Sitting Stay
Whether your new to having a pet sitter or not, the advantages they can bring during this time of year are numerous. If you're hosting Thanksgiving at your house, you might find it useful to have your pet sitter come over and take care of your animal while your busy cooking and entertaining. While you can control the pet hazards that are in your house, this is not true for any relatives you may be staying with. Controlling what your pet can and can't get into at somebody else's house is almost impossible. Instead using the overnight pet sitting services to have a pet sitter stay the night at your house to care for your pet. This way you'll be able to have a relaxing Thanksgiving without having to worry about your pet encountering any safety hazards. In your absence should your pet still find themselves in a hazardous situation, your pet sitter will be highly trained and know how to deal with the situation immediately.