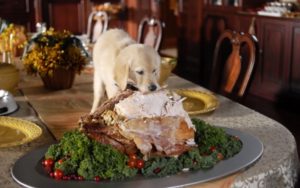 Our furry friends are part of the family, so we want them to be able to participate in holidays that bring us together. Celebrating Thanksgiving with your pet can be a fun and entertaining way to treat your pet for the holidays, but being introduced to new foods, events, potentially new places and people may leave them feeling stressed, sick or anxious. Here are some helpful Thanksgiving pet safety tips and tricks that will prepare you for the holiday season with your pet.
Pet Preparation Dinner Party Tips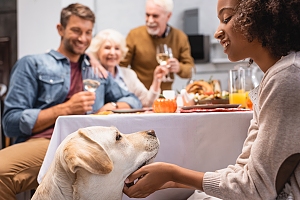 If you are hosting Thanksgiving at your home, you should take the time to prepare your pet and home for visitors. If your dog likes to jump on people or run out the door, be sure to crate them or place them in another room with food and water before guests arrive. You can later introduce them gradually to others once they've calmed down.
Keep food out of reach of pets and do not leave it unattended, in order to prevent any food stealing from our furry friends. Additionally, if there is festive decor and candles, be sure to be mindful of your pets playing with them– open flames can quickly lead to a house fire, especially with pets running around!
What NOT to Feed Your Pet on Thanksgiving
Sharing Thanksgiving food with your pet can be a wholesome way of spreading holiday cheer, but there are certain foods that can be harmful to them. Here is a list of Thanksgiving food to avoid feeding your fur baby: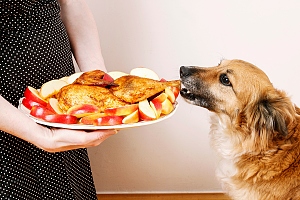 Turkey with bones – do not give your pet the leftover turkey carcass or turkey with bones in it because it will often cause future problems with their digestive system.
Raw yeast dough – if a pet ingests raw yeast, the yeast will metabolize the sugars into carbon dioxide and alcohol, resulting in bloated drunken pets (a potentially life threatening emergency).
Cake batter – raw eggs can cause salmonella poisoning in not just humans but cats and dogs too!
Leaving Your Pet At Home For Thanksgiving?
If you're going out of town for Thanksgiving and are in search of a pet sitter in the Northern Virginia area, be sure to get in contact with Paw Pals Pet Sitting to schedule a vetted, animal loving pet sitter today.
The services we provide are beneficial for pet owners who genuinely care about their animals and do not want to board them when they are away. We work hard to provide the area's "Best Care for your Best Friend." The skilled and certified specialists on the Paw Pals Pet Sitting team will ensure that your dogs receive the highest caliber of care so you can enjoy your holiday!