Our Reston VA dog walking services are here to help give you some time back into your day. Without having to stop what you doing and take your dog out on a walk, Paw Pals is here to help. Our dog walkers are here to make sure a dog is happy, healthy, and active while you are away from your home or just don't have the time. Most of our professional dog walkers are also dog owners, which means they know exactly what kind of care a dog needs.
Reston VA Dog Walking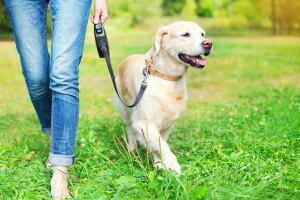 If your dog is eager to get outside and let out some of their energy, but you are not able to go with them, work with Paw Pals! We specialize in giving your dog the opportunity to get their paws moving. We work to provide residents with personalized dog walking services in Reston VA. To do this we can schedule a time that works for you and your dog throughout the day or weekend. This way will make sure that your pup can stick with their daily routine. We're ready to take your dog or dogs on a walk whenever you are! If you have multiple dogs, no problem. We will take them both out and make sure they both have some time to run around. If you are looking for Reston VA dog walking services, we are the right choice.
Work With Paw Pal For Dog Walking Services
Reach out and lets talk about all our Reston VA dog walking services. Feel free to call us at (703) 345-1695 or reach out online through our form. We offer more than just dog walking. We also have pet sitting services available that can be paired with our House Sitting and Plant Sitting service as well. With Paw Pals on your side you can ensure that your home is looked after while you are away and your dog will be exercised. We are ready to work with you in Reston, VA. Paw Pals is licensed, bonded, and fully insured, and our sitters are 100% PetTech certified in Pet CPR and First Aid.