We all need a little exercise in our lives, and our dogs are included. Taking them out of the house for a little bit and getting them some fresh air is good for them. We know that having the time in your day to dedicate to a dog walk is not always possible. Paw Pals is ready to step in. We are ready to take your dog on a walk to help them get their energy out and help you be able to focus on all the other things on your to-do list. Work with Manassas VA dog walking services from Paw Pals.
Dog Walking In Manassas, VA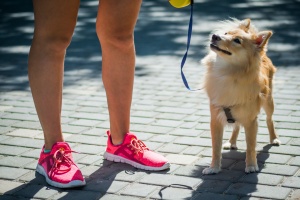 Paw Pals provides full and personalized Manassas VA dog walking services. We are able to work with your dog to find their perfect tempo, length and time. When you are away or unable to take you dog out, your pup will still be able to receive their time outside. Here at Paw Pals we are glad that we can help take one task off of your list. This will let you dedicate that time to all the other errands, work, and all the other things you do throughout the day.
Work With Paw Pal Dog Walking
Paw Pals is licensed, bonded, and fully insured, and our dog walkers are 100% PetTech certified in Pet CPR and First Aid. For your convenience, we offer a variety of times throughout the day that we can come and pick up your pet. We also work to customize the and lengths of walks so that its just the right amount for your dog. You can also pair our dog walking services with our Plant Sitting and House Sitting service as well. If you are away for a long period of time your dog walkers can check in on your home at same time as walking your dog. Contact us today to work with you in Manassas, VA.