Let's go on a walk together, Paw Pals and your dog! We are excited to meet your lovable dog and take them on a walk that they look forward to all day. It doesn't matter if you are out of town or just can't quite find the time to set aside, we are able to come over to your home and take your pup out for some fresh air. We are professional and offer Fairfax VA dog walking service that you are looking for.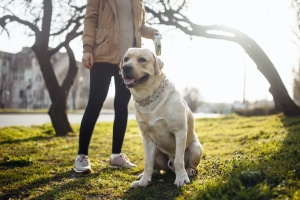 We all know that putting in some time for exercise is great for your dog's health. We offer Fairfax VA dog walking services at a variety of times throughout the day, so you can pick the ideal time for you and your pup. We also help with anything related to dog walking, including taxi and waste pick up.
When pet owners aren't able to be home for a period of time, your dogs should still be able to get there daily energy that they are used to. Knowing that the customers we serve can relax on a vacation or concentrate on work without feeling guilty is something that is a really like to assist with here at the Paw Pals team. Taking excellent care of your dog (or dogs) while you are away is something that we really take seriously and do our best to offer care and kindness.
Work With Paw Pal
Speak with Paw Pals about the times and rates we offer. We offer not only regular daily visits but also vacation visits and overnight dog sitting so you can find a service that suits you best. For your peace of mind, we are licensed, bonded, and fully insured. Our dog walkers are also 100% PetTech certified in Pet CPR and First Aid. Reach out today to start working with PawPals in Fairfax, VA.