Paw Pals goal is to be the top provider of Fair Oaks VA dog walking services. Our professional dog walkers are happy to help and ensure that your dog is being taken care of. Wherever our clients are at the time, no matter is they are quite caught up with work, running a quick errand in town, or even taking a relaxing vacation for a few days, you don't have to worry about your precious dog or dogs getting in some personal love, exercise and care.
Fair Oaks, VA Dog Walking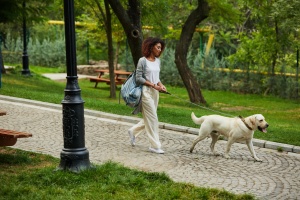 Let's get your dog up, outside and on a walk! We know that giving dogs some exercise is good for them, and on top of that they just love it. Having the time while you are very busy or even away from the house to take them out can be tricky. That is where Paw Pals comes in. We will come over to your home and take your dog on a lovely walk. We know that each dog is different and needs a specialized amount of walking times, styles and even distance. We meet you and discuss the varieties before we offer our services so that we get to know your dog or dogs tempo and pace to be able to fit their best needs while taking them on a walk.
Talk To Paw Pals About Our Services
To make sure that your pet is safe when with our walkers Paw Pals Pet sitting is licensed, bonded and fully insured. You can have peace of mind when we take your dog out on a walk because we are also PetTech certified in Pet CPR and First Aid. Feel free to reach out to us by phone at (703) 345-1695 or contact us online through our request form. We will be happy to talk with you about Fair Oaks VA dog walking services and how we provide the best care for your furry family members.