Taking your dog on a walk is a great way to give them some exercise and some time outside of the house. We understand that sometimes will all your daily tasks there is just not enough time in the day to do this. Paw Pals is ready to step in. We are able to come over to your home and pick up your dog for a little time outside on a nice walk. We offer our services at different times of the day and week so that we can find the right time that will fit you and your dog's schedule. Work with Fair Lakes VA dog walking services from Paw Pals.
Fair Lakes VA Dog Walking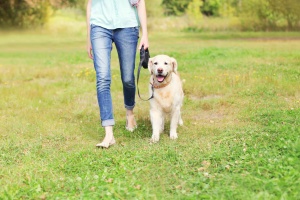 While every dog is different and needs a different amount of exercise, most dogs often need daily exercise to stay happy and healthy. Whether you are away from home or working in your home office, hire professional Fair Lakes VA dog walking services. We will come over to your home and take your pup for some well-deserved time outside. Being able to have someone come and take your dog on a little walk every once in a while is a great option for your pet. Paw Pals has been working as Fair Lakes VA dog walking number 1 service for many years. We take a lot of pride in our dog walkers and ensure that they are fully trained, prepared, and tested to work with your dog.
Work With Paw Pals Dog Walkers
Fell free to contact us by phone during our work hours at (703) 345-1695 or send over a request through our online form. We are ready to take you dog out on a walk whenever you need us. We also offer House Sitting, Plant Sitting, and Pet Sitting services as well. These work great together when you are out of the home for longer than a day and want to make sure your house, plants and (most importantly) your pup are all taken care of.