Whether you are headed out of town for vacation or only gone for the day, Paw Pals Clifton, VA dog walking services will release you from all the stress of worrying about who will take your dog out for a nice walk. We are here to ensure the health and happiness of your lovable dog while you're away. We offer a variety of walking options to fit your specific dog's wants and requirements.
Clifton, VA Dog Walking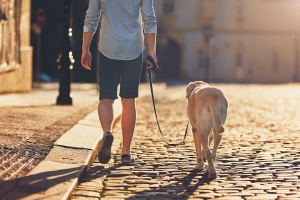 Having the time to take your dog on a walk is not always possible in your busy day. This is where Paw Pals comes in! We specialize in walking dogs and helping to take them out for some fresh air and exercise. Just a few minutes a day walking outside can do wonders for a dog's mental and physical health. You can feel good about giving them the chance to get out of the house and go outside to enjoy a nice walk around.
Whether our clients are at work, shopping, running errands or away on a trip, Paw Pals aims to provide the best of care for dogs with Clifton, VA dog walking services. We are able to offer a few different time options for our clients which allows them to pick if they need dog walking during mid-day or on the weekends. We want you to feel confident in our services as our main goal is to ensure our clients know their house and dog are in good hands.
Reach Out To Paw Pals Today
Like our name suggests, we are here to be your dog's best friend and walking buddy. We are willing and ready to help your dog get some exercise and even just get out of the house. Call Paw Pals Pet Sitting, LLC through an online request or by phone at (703) 345-1695
and we will be happy to discuss all of your dog walking needs. We have a variety of options to choose from that will fit you and your dog's wants.