Taking your dog out on a nice walk is a great way to treat your furry friend. It gets some of their energy out, gets them some exercise, and increases their mental engagement. While it can be time-consuming for you, it is worth it for your dog. Paw Pals, Chantilly VA dog walking, is here to help you out!
Dog Walking In Chantilly, VA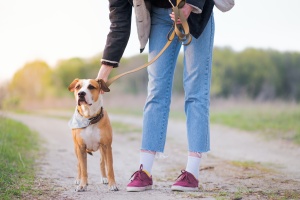 We all know that dogs love to get outside and get out some of their energy through walks. While sometimes it can be difficult to find the time, especially when you are away or busy all day, hiring a dog walking service is the perfect solution. Paw Pals is here to help by offering dog walking to Chantilly, VA. Our goal is to get your pet up and moving during the day on a nice walk. It's good for their physical and mental health.
Dog owners don't have to feel guilty about not having time to walk their pup. Paw Pals Chantilly, VA dog walking services is the perfect solution for everyone. Whether you're down the road shopping, busy working or even out of town, our dog walkers are committed to ensuring the safety of our clients' dogs and homes. Complete satisfaction and reliability in terms of the comfort and happiness of our clients and their dogs is our goal.
Work With Paw Pal
At Paw Pals, our sitters are 100% PetTech certified in Pet CPR and First Aid. They are also fully licensed, bonded, and insured so you don't have to worry. We also offer a variety of visiting times to fit your schedule, including regular vacation visits as well as overnight dog sitting. Ask us about our House Sitting and Garden Watering service as well. This is where our pet sitters take the time to look after your home while you're away as well. Contact us today to work with you in Chantilly, VA.