We understand that finding the time to walk your dog can sometimes be difficult. Whether you are away from your home for a few hours or a few days, Paw Pals is here for Centreville, VA Dog Walking. One thing is for sure, we are absolute dog lovers! We are ready to take your dog out on a nice walk and to give them a little bit of outdoor exercise.
Dog Walking In Centreville, VA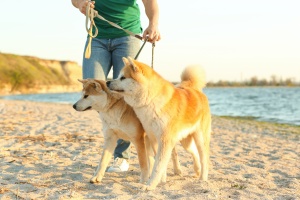 Dogs can have a lot of built-up energy and often need some time dedicated to their exercise and getting this energy out. Sometimes this need can be tricky to make happen with everyday tasks, errands and jobs getting in the way. Paw Pals is here to help by offering our services for dog walking to Centreville, VA. We want to get those furry friends, who just need some time outside, up and walking around.
When you're away from your home and unable to take them out yourself, give your pets the best option, of Centreville VA Dog Walking service. We bring our services to you and your pets' homes. This allows you to leave your dog in the place they are most comfortable and walk around the area they are pretty familiar with. We also know that a lot of our customers have more than one pup, so we offer dog walking services for those who have multiple dogs in their homes as well.
Work With Paw Pal Dog Walking
Paw Pals is licensed, bonded, and fully insured, and our dog walks are 100% PetTech certified in Pet CPR and First Aid. For your convenience, we offer a variety of times. Each of our services can be paired with our House Sitting and Garden Watering service where our pet sitters look after your home while you're away as well. Contact us today to work with you in Centreville, VA.