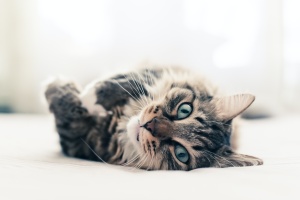 Whether you'll be going on vacation for a few weeks or will be gone just for the day, Paw Pals Pet Sitting provides a variety of high quality and personal in-your-home cat sitting services to keep your cats happy and healthy while you're away.
We care deeply about the standard of living of each and every pet, and understand your reluctance to leave your cat home alone or board it for longer trips. Our cat sitters have cared for cats of all sizes and personalities, and many are cat parents themselves. We are committed to giving your cat the interaction, affection, and exercise they crave, while keeping them safe and cared until you get back. With Paw Pals Cat Sitting, you can rest assured that we will love your cats as if they were our own, and will care for them just as you would.
Paw Pals is licensed, bonded, and fully insured, and our cat sitters are 100% PetTech certified in Pet CPR and First Aid. For your convenience, we offer both regular vacation visits and overnight cat & house sitting. Each of our cat sitting services can be paired with our House Sitting, Garden Watering and/or Plant Sitting service where our cat sitters look after your home while you're away as well.
Vacation Visits
With our regular vacation visits service, Paw Pals cat sitters come to your home to give your cats the attention, exercise, food, and supplies they need. Our cat sitting service includes playtime attention, brushing, treats, fresh food and water, litter box cleaning, and medication administration. We offer a variety of options for visits, both in frequency and length.
Vacation Visits Pricing
Includes:
Playtime, brushing, treats
Fresh food and water at scheduled visit
Clean litter box
Medications, if required (see medication administration)
Attention and love as if they were our own!
Overnight House & Cat Sitting
If you don't want to leave your cats all alone at night while you're gone, one of our certified and trusted Paw Pals cat sitters can stay at your house with your cats overnight to care for them and keep them company. Overnight stays in a home are for 12 hour periods and begin when our cat sitter arrives, typically between 7 and 10 PM. Playtime, brushing, treats, fresh food and water, litter box cleaning, and medication administration are all included for an overnight stay. We request that you get in touch with us at least two weeks beforehand because this service is subject to the availability of our sitters.
Note: Subject to sitter availability.
Overnight Cat & House Sitting Pricing
A Paw Pals cat sitter will stay with your cats overnight. Overnight stays are for 12 hours with arrival
times between 7-10 PM. Additional mid-day visits may be scheduled as needed.
Cat Sitting Includes
Playtime, brushing, treats
Fresh food and water at scheduled visit
Clean litter box
Medications, if required (see medication
administration)
Attention and love as if they were our
own!
House Sitting Includes
Bringing in papers, mail, and packages
Plant sitting and watering house plants
Opening/Closing blinds
Alternating lights
Taking out/Bringing in trash and
recycling
Additional Cat Sitting Services
Cat Supply Pick-up
We can shop at your preferred specialty store or the nearest pet supply store to pick-up any of the food, supplies, or litter, etc, a cat owner needs and is unable or unavailable to do. Whether someone is just too busy or is out of town, Paw Pals cat sitters and cat sitters can get all of the supplies your cat(s) need to stay cute.
Note: We will shop at a nearby pet supply store. If a particular specialty store is requested, depending on the distance, additional costs may be incurred.
Cost: $20 plus amount of receipt
Pet Transportation / Pet Taxi Service
Paw Pals Pet Taxi service helps our clients to better manage their time and everything else life is throwing at them. Our Pet Taxi services allow our clients to perform their personal or professional obligations without having to worry about taking off work or not being able to take a pet to places such as the groomer or the vet. We can safely transport your pets to any location they need to get to in our service area. Our experienced pet sitters can remain with your pet throughout their vet visit to give them positive reassurance and loving attention. For these kinds of visits, Paw Pals requires our clients to make payment arrangements with their vet or groomer prior to our arrival, and we also must require that our clients are reachable for any decision-making that needs to occur during the vet visit.
Cat Sitting Medication Administration
Your Paw Pals Pet Sitter has training to administer cat medications. In most cases, cats will take the medication with a little coaxing, or willingly, and administering medication in food or treats would not require an additional charge when feeding your cat(s). However, medications including subcutaneous fluids and injections such as insulin require additional expertise, and an add-on fee.
Cost:
Topical – $5
Oral in food – $0
Oral without food – $5
Injections – $15
Subcutaneous Fluids – $25
House Sitting / Garden Watering
No cats, but you still need your house taken care of while you are away? We can visit your home once
or twice a day to take care of the minor household tasks that you would usually do. Your home is made
more secure by crime-deterring measures taken by your cat sitter, including:
Bringing in papers, mail, and packages
Watering house plants and plant sitting
Feeding fish and refilling bird feeders
Opening/Closing blinds
Alternating lights
Taking out/Bringing in trash and recycling
Cost: $20 per day/per visit
Garden Watering
Garden watering can be added onto either House Sitting or Cat Sitting visits.
Cost: $8.00 for each 15 minutes
Plant Sitting
When you are out of your home for a while, watering your plant could be one of those tasks that just simple slip your mind. It can potentially be an irritating task for someone to drive and come over to your house only to water your plants. If someone is already there watching over your cat, it is relatively easy for them to also do some plant sitting. While our cat sitters are playing and loving on your cat, they can also help out and be plant sitting. Let us watch your plants and your cat at Paw Pals!
Cat Sitting Policies
Paw Pals has policies and procedures in place for certain situations which include:
Safety First!
First and foremost, our professional cat sitters put safety first. We do our absolute best to make sure there is nothing that could go wrong during any of our visits. Each of our cat sitters and pet sitters is certified in PetTech PetSaver First Aid and CPR and must recertify every two years in order to keep up with the best safety practices which could save the life of a pet in an emergency. Each of Paw Pals cat sitters and pet sitters is truly an animal lover, and that is how we can always provide the care and attention your cat(s) crave during the day.
New Client Setup / Meet & Greet
Before someone becomes one of our cat sitting or pet sitting clients, we require an initial "Meet & Greet" at your home to make introductions with you and each of your pets. We'll take this time to discuss the needs of you and your pets and to determine a pet's temperament and behavior and analyze whether a cat is an acceptable candidate for our cat sitting or pet sitting services. Once this has occurred, we can talk about a pet's normal routine as we fill out all of our required paperwork and inform new clients on our policies and procedures.
We also use this as an opportunity for you to show us your pet's routine, and for us to complete all the paperwork and go over our policies and procedures. However, you are under no obligation to obtain services as a result of this visit, and we reserve the right to refuse service if a pet is not a good candidate for our services.
Cost: $25.00 (This fee will be waived if Paw Pals determines that your pet(s) will not be a good
candidate for our services.)
Note: For existing clients, who add a new pet to their family and wish for their pet sitter to meet them and the pet before services begin, there will be a $15.00 visit fee.
Late Bookings
We understand that not everything happens as planned and will do our best to accommodate last minute requests. These requests are not guaranteed and are subject to sitter availability. Please note that requests made after business hours will be considered as having been received the next business day.
Existing clients: Requests made with less than 2 business days' notice will incur a $10.00/visit surcharge. Same day requests will incur an additional $25/visit last minute booking charge. (If the request is for a series of visits, the surcharges will apply only to the visits within the late booking period, not all the visits in the series.)
New clients: All new clients must have an initial Meet & Greet completed before any visits or services can be confirmed. Please see New Client Setup/Meet & Greet section above.
Inclement Weather
For days when there is severe inclement weather, a $20.00 fee may apply. This policy is most often associated with a federal government shutdown or if Fairfax County Schools are closed.
Areas Served
Centreville, VA Cat Sitting Services
Chantilly, VA Cat Sitting Services
Clifton, VA Cat Sitting Services
Fair Lakes, VA Cat Sitting Services
Fair Oaks, VA Cat Sitting Services
Fairfax Station, VA Cat Sitting Services
Fairfax, VA Cat Sitting Services
Manassas, VA Cat Sitting Services
Oakton, VA Cat Sitting Services
Reston, VA Cat Sitting Services
Vienna, VA Cat Sitting Services