We all know that our furry, feathered, or scaly friends mean the world to us. They're not just pets; they're part of our families. That's why it's crucial to ensure they receive the best care possible. In this blog, we're diving deep into the world of primary pet care and discovering how you can provide top-notch care for your beloved companions.
Why Primary Pet Care Matters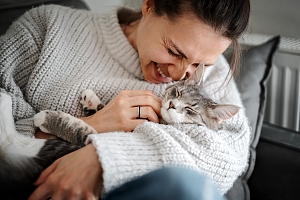 Picture this: a happy, healthy, and vibrant pet. That's the goal of primary pet care. It's not just about making your pets look good; it's about making them feel fantastic, both physically and emotionally. Proper primary pet care prevents health issues, fosters strong bonds, and guarantees that you and your pet have the best possible companionship.
The Essentials of Primary Pet Care:
Primary pet care is a multi-faceted endeavor that covers various crucial aspects:
Nutrition
Nutrition is the foundation of a healthy and happy pet. Just as we need the right balance of nutrients to stay well, our furry friends require the same. A well-rounded diet is the key to their overall well-being.
Why Proper Nutrition Matters
Proper nutrition is more than just feeding your pet; it's about providing them with the right nutrients in the right amounts. A balanced diet ensures your pet receives essential proteins, fats, carbohydrates, vitamins, and minerals necessary for growth, energy, and overall health.
Dietary Considerations for Different Pets
Different pets have different dietary needs. For instance:
Dogs and cats: Need a mix of proteins, fats, and carbohydrates. Cats are obligate carnivores, so they require more animal-based proteins.
Rabbits: Primarily herbivores, they need a high-fiber diet with plenty of hay and leafy greens.
Birds: Their diet varies greatly by species, but most require a mix of seeds, fruits, vegetables, and occasional protein sources.
Understanding your pet's specific dietary needs is crucial. Consult your veterinarian for personalized dietary recommendations.
Exercise and Playtime
Regular exercise is vital for keeping pets in tip-top shape. We'll share some fun and engaging ways to keep your pets active and entertained. Just like humans, pets need physical activity to stay healthy and happy. Exercise not only keeps them physically fit but also mentally stimulated.
Benefits of Exercise
Regular exercise helps maintain a healthy weight, improves muscle tone, and prevents obesity-related health issues. It also reduces behavioral problems by channeling excess energy into positive activities.
Fun Ways to Keep Pets Active
Dog Walks: Daily walks provide exercise and bonding time for dogs and their owners.
Interactive Toys: Toys that dispense treats or require problem-solving keep dogs and cats mentally engaged.
Playdates: Arrange playdates with other pets to encourage socialization and exercise.
Obstacle Courses: Set up mini obstacle courses in your backyard for dogs to navigate.
Hide-and-Seek: Hide treats or toys around the house for pets to find.
Remember that the amount and type of exercise vary by breed and age, so tailor activities to suit your pet's needs
Grooming and Hygiene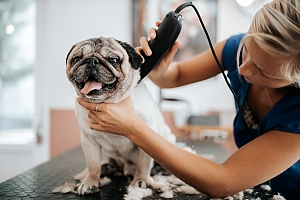 Grooming isn't just about aesthetics; it's a vital aspect of pet care that promotes their well-being. Different pets have unique grooming needs, and understanding these requirements is essential.
Why Grooming Matters
Grooming removes dirt, debris, and loose hair from your pet's coat. It prevents matting, reduces shedding, and allows for early detection of skin issues or parasites. Grooming also helps strengthen the bond between you and your pet.
Grooming Practices for Different Pets
Dogs: Brushing, bathing, nail trimming, and regular ear cleaning are essential. Long-haired breeds may require more frequent grooming.
Cats: Cats are generally good at self-grooming, but regular brushing helps reduce shedding and hairballs.
Rabbits: Brushing and nail trimming are crucial to prevent matting and overgrown nails.
Birds: Regular baths and feather conditioning are vital for birds' plumage health.
Reptiles: Different species have varied grooming needs, but maintaining proper temperature and humidity levels in their habitat is essential.
Consult your veterinarian or a professional groomer for guidance on your pet's specific grooming requirements.
Veterinary Care
Regular visits to the veterinarian are a fundamental aspect of responsible pet ownership. These visits are about more than just vaccinations; they're a comprehensive approach to ensuring your pet's health.
Why Veterinary Care Matters
Veterinarians provide a wide range of services, including vaccinations, preventive care, dental check-ups, and treatment for illnesses and injuries. These visits are crucial for early detection and management of health issues, ultimately extending your pet's lifespan.
Key Aspects of Veterinary Care
Vaccinations:Vaccines protect pets from serious diseases. Your veterinarian will recommend a vaccination schedule based on your pet's age and lifestyle.
Preventive Care: Regular check-ups help identify health issues before they become serious problems. This includes dental care, parasite control, and nutrition advice.
Emergency Care: In case of accidents or sudden illnesses, knowing your nearest 24-hour emergency veterinary clinic is essential.
Remember, routine veterinary visits are an investment in your pet's long-term health and happiness.
Mental Stimulation
Pet mental health is often overlooked, but it's just as crucial as their physical well-being. Mental stimulation keeps pets engaged, reduces boredom, and prevents behavioral issues.
Why Mental Stimulation Matters
Boredom can lead to destructive behavior in pets. Mental stimulation enriches their lives, keeping them happy and well-adjusted. It's particularly essential for intelligent and high-energy breeds.
Enrichment Activities
Puzzle Toys: Toys that dispense treats when manipulated engage a pet's problem-solving skills.
Hide and Seek: Hide treats or toys around the house for your pet to find.
Training and Tricks: Teaching new commands and tricks challenges their minds.
Interactive Play: Laser pointers, feather wands, and interactive play sessions with you stimulate their natural instincts.
Enrichment activities should be tailored to your pet's abilities and interests, providing them with mental exercise and preventing boredom-related issues.
Paw Pals Pet Sitting: Your Trusted Partner
Having a trustworthy ally in your quest for pet happiness is essential. That's where Paw Pals Pet Sitting comes in. With their experienced and passionate team, they offer a wide range of services tailored to meet your pet's unique needs. Whether you need someone to check in on your kitty or take your energetic pup for a romp in the park, Paw Pals has got you covered.
Reach Out to Northern Virginia Professional Pet Sitters
Primary pet care is not a luxury; it's a necessity for responsible pet ownership. Paw Pals Pet Sitting can be your trusted partner in ensuring your pets lead happy and healthy lives.
Ready to give your pet the best care possible? Reach out to Paw Pals Pet Sitting today to learn more about their services and how they can tailor a care plan just for your furry, feathered, or scaly friend. Don't miss out on the opportunity to provide your pet with the care they deserve!