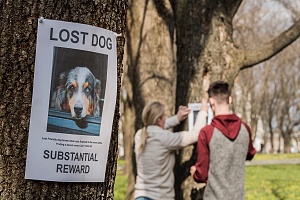 There are few things as scary and nerve-racking as losing a pet. Luckily for us, today's technology affords us the amazing option of microchipping our furry friends, allowing our pets to be identified if they do get lost. However, implanting a microchip is only part of the solution. The sole function of the microchip is to store an ID number unique to your pet, which is then linked to your contact information and registered with a database service. This means that in order for the microchip to be effective, you have to keep your contact information up-to-date in the database.
A couple years ago, I was heading to a visit when I saw an adorable little dog running across the street. Naturally, I stopped the car, went out and brought the dog back to my car. The first thing I did was check to see if the dog had any tags — which she didn't. My next thought was that I needed to take her some​ ​place that could check if she had a microchip. I knew that both animal shelters and vets were able to check for microchips, so I took the dog to the nearest of those two options: the Clifton Centreville Animal Clinic. The staff there were so helpful and encouraging, and they took her right back to check her over. When they came back out, they confirmed that she was a healthy dog, and nothing was wrong with her. Then they said, "Good news — she has a microchip. Bad news — they never activated it." While this sweet dog's owners were proactive and had her microchipped, they never went online to put in their address or phone number. So essentially all we had to work with was a blank microchip with no information attached to it.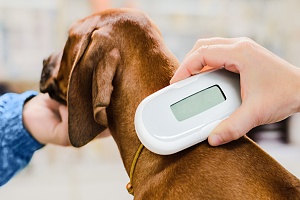 Now the lucky part of the story is that while I was waiting in ​an ​animal clinic trying to figure out what to do, wondering if I should just take the dog to the shelter, someone walked into the clinic with their dog and said, "That looks like my neighbor's dog!" After calling their neighbor, the newcomer was able to confirm that it was indeed their neighbor's dog. So after waiting a little longer, the owner came to the vet, and I was able to return the puppy.
That was pure luck. If the dog's neighbor hadn't happened to walk into the clinic, there wouldn't have been anything else I could've done. The moral of the story: a microchip doesn't do any good if you haven't updated the database connected to it!
Since every May is Chip Your Pet Month, now is the perfect time to make sure your pets microchip database is up-to-date. And if you don't already have your pet microchipped, it's never too late! Check out our other blog post, Pet Microchips: Check the Chip! for more information!