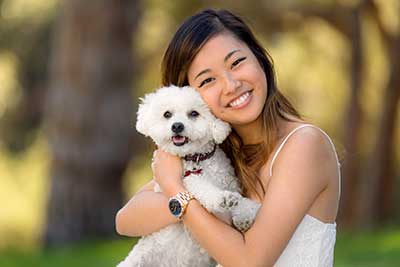 Dirofilaria immitis, more commonly known as the heartworm, is small and threadlike. Distributed by mosquito bite, heartworms can enter an animal's body and move towards their heart. Mosquitoes become infected with tiny immature forms of the heartworm, called microfilariae, when they bite an infected animal. Inside the mosquito, the microfilariae develop into larvae. A parasitic roundworm, these tiny heartworms can infect and host dogs, cats, ferrets, and other pets, as well as, in rare cases, human beings. The adult heartworm lives and breeds in the heart and lungs of its host, and causes damage to the surrounding lung and heart tissue. This may eventually result in serious illness for the host—even death-related illness like congestive heart failure. Once considered a problem for pets in the southern United States or in other warm climate areas, now heartworms have been seen in all 50 states. Heartworm disease is dangerous. Protecting your pets with preventative measures and knowing the signs for early detection can help with pet safety and peace of mind for any pet lover.
Test Pets for Heartworm Disease
An important part of any complete heartworm prevention program is appropriate testing. If you think your pet already has heartworm disease, please take your pet to a pet health specialist or licensed vet. This testing process is to check pets for adult heartworms, and lets owners know if their pet is ready to start preventive medication. The vet or vet tech will take the pet's blood and complete a variety of tests to detect specific antigens or antibodies in the blood stream. Antigen tests are usually most effective for canines. Antigen tests detect specific antigens from adult female heartworms, and are used with much success to detect canine heartworm infection. Antibody tests are more effectively used in felines. Felines have less of a chance in contracting heartworm disease, but in many cases, the heartworm will not travel to the lungs or heart, instead infecting cats in other areas of their body—resulting in brain infection or heart disease. It's important to complete appropriate testing before administering medication.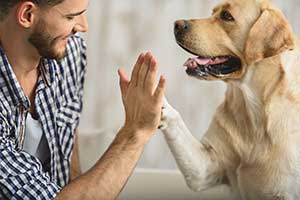 Preventing Heartworm Infection
One of the most common ways to prevent heartworm infection is by placing one's pets on a heartworm prevention medication. There are several heartworm prevention medications used by pet owners and veterinarians—from pills or chewable tablets, to topical rubs or solutions, to injections from a pet health professional. These preventative drugs are highly effective in preventing heartworm infection and disease and are sold under a variety of brand names. Please check with a pet health professional or licensed veterinarian to help decide which option is appropriate for a specific pet or animal companion, based on their needs, size, and medical history. Some of these drugs also double as anti-flea medication. Others work to control and prevent infections by roundworms, hookworms, and whipworms, as well as heartworms. Other medications can be used in tandem to kill ticks and fleas. Remember, like with any prescribed medication, it is important and vital for pet owners to follow complete dosage guidelines on the box or bottle. The American Heartworm Society estimates 25% of all pets on medication their full doses. The best preventative measure is to limit pet exposure to mosquitoes.
Signs of Heartworm Disease
Heartworms are transmitted by mosquitoes, and can involve both dogs and cats, among other animals. However, the infection and detection of heartworm disease differs in each animal species.
For Dogs
Once an infected mosquito bites a dog, the larval heartworm enters the dog's skin through a bite wound. Over the next several months, the worms migrate through the dog's bloodstream to the heart, where they grow into adult heartworms and breed. Their offspring live in the blood of an infected dog where they mature and breed. Over time, these multiple heartworms can lodge themselves in heart or blood vessels, which leads to health issues or death.
For dogs, the first outward signs of heartworm disease may not be apparent until a year after infection. Symptoms of heartworm infection with a soft cough. As the disease progresses, the infected pet will have increased trouble with breathing, which can make exercise difficult. Other symptoms include a decreased appetite and weight loss.
For Cats
Once an infected mosquito bites a cat, the larval heartworm enters the cat's bloodstream and migrates to the lungs or other cavities. These heartworms are smaller than those found in dogs or other large mammals, and generally take one month to mature into full-grown adults.
The symptoms for a heartworm infected cat can mimic symptoms of many other diseases. These include difficulty with their breathing, coughing, vomiting, fainting, seizures, blindness, loss of appetite, and weight loss. Some of these symptoms can persist even after heartworms have been treated.
Other Pets
Just like dogs and cats, ferrets and other small pets can become infected with heartworms. The signs of heartworm disease in ferrets or other small mammals are similar to those in dogs, but they develop more rapidly due to the size of the animal's heart. While dogs may not show symptoms until they have many worms infecting their hearts, lungs, and blood vessels, just one worm can cause serious respiratory distress in a ferret or other small mammal. Symptoms can include coughing, fatigue, labored or rapid breathing.
Heartworm Disease Treatment
For Dogs
If a dog is diagnosed with heartworms, treatment may be possible. However, before a veterinarian or medical professional will treat heartworms, the dog must be evaluated for other health concerns and organ function—the health of the heart, liver, and kidneys may help determine treatment. Check with your medical professional which treatment is right for your pet. Some of the treatments include injected medicine which can be used to treat even late-stage infection.
Once the treatment occurs, heartworms die and are absorbed by the animal's body and removed naturally. After treatment, the dog must rest for several weeks or months to give the body sufficient time to heal itself properly. When the heartworms begin to die, they break up into pieces and are eliminated. Very active pets may cause the dead heartworms to travel to the lungs, which can cause causing respiratory failure or even death.
For Cats and Other Pets
Heartworms can be very difficult on the systems of small mammals, and significantly problematic to a cat's health system. The general prognosis for feline heartworm disease is 'guarded,' which means it varies on an individual basis. Treatment usually consists of monthly preventative heartworm medications. Similar therapies that dogs receive may not be appropriate for cats. A significant number of cats have developed heart diseases such as pulmonary embolisms a few days after major treatment, therefore many therapies for feline heartworm are not recommended, but surgery can sometimes be an option. Contact a medical or veterinarian professional before deciding on treatment for feline heartworm disease.
Once heartworm tests are negative, the treatment is considered a success, and one can move on to continuing preventative measures to ensure pet health.
After-Treatment Prevention
After a pet has been treated successfully and tested negative for heartworms, it is vital to keep the pet on a heartworm prevention medication. Heartworm preventive medications work to kill the larvae and growing heartworms. Most are given monthly. Remember to follow the prescription for a pet just as a human patient would follow a prescription from their own medical team. Consistent use of these medications are required for continued health. Many veterinarians recommend heartworm preventive medications to be given year round, because several of these medicines also treat and control other intestinal parasites as well
Another tip is to reduce your pet's exposure to mosquitoes. Make your yard less hospitable to mosquitoes by removing any areas with pooling or stagnant water. Remember: if it has held water for a week, it may be producing mosquitoes. Check for clogged rain gutters or leaky outdoor faucets, any low spots on the property, open watering cans or catch barrels. Mosquitoes nest in shaded, protected areas. Cut low-lying brush and remove loose vegetation. Keep shrubs and trees well-trimmed and grasses short to prevent the proliferation of mosquitoes, fleas, and ticks.
Note: Pets cannot spread heartworms from one to another.