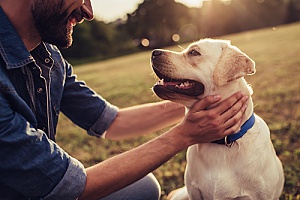 If you are away on vacation and are planning to leave your pet at home, not only do you have to worry about who's going to care of them, but you also want to make sure they are entertained and stay active while you're gone. Perhaps whoever is caring for your pet will be away from your home for long periods of time, so you'll want to make sure your pet has more things to do than just sleep all day. This is particularly true for younger pets or pets who get anxious when they're left alone for too long. Below is a list of simple activities or things you can do so your pet stays happy and entertained while you're enjoying your vacation.
1. Leave The TV On
This is particularly useful for pets who get anxious being home alone because the voices from the TV can trick them into feeling as though they are near people. If set your TV to an animal channel, the sights and sounds of other animals are sure to catch the attention of your pet. There are even some programs that you can find that are designed specifically for dogs. These programs will include the sights and sounds of other dogs so that your dog feels comforted by their presence.
2. Open the Blinds
Many pets like looking at the outside world. Especially if you live in a somewhat busy area, your pet could be entertained for hours just by watching the world go by through a window. If you have to keep your blinds closed because you have a dog who gets excited when people walk by and barks, you could always open the blinds to your backyard or a window facing a less busy area. If you have a cat, you could place a bird feeder near the window so that they can watch the birds come and go.
3. Fill a Hollow Toy With a Treat
Many dogs enjoy peanut butter, so if you take a hollow toy and fill it with peanut butter, it's likely your dog will be engaged with that toy for hours trying to get out every last bit of the peanut butter. This could easily be adapted for other types of pets depending on their preference of treats.
4. Scavenger Hunt
You can hide treats or toys all throughout your house for your dogs to find and enjoy. If your pet suffers from separation anxiety, this is also something you can do on a regular basis. Every time you leave the house you should leave a small treat for your pet to find. This will allow your pet to develop a positive association with you leaving and hopefully help relieve some of their anxiety.
5. Interactive Toys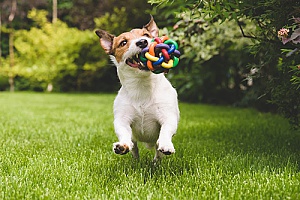 Interactive toys are a great way to keep your pet active in your absence. There are tons on the market so you're sure to find one (or more) that can capture the attention of your pet for hours. These toys can include things like automatic ball launchers that periodically launch balls for your dog to chase. There are also tons of doggy puzzles that you can find to keep your dog engaged and active. Most of them require your dog to solve a puzzle and as a reward, the dog will receive a treat. This is a great way to keep your dog's mind active as they have to figure out how the puzzle works.
6. Hire Pet Sitting Services
One of the best ways to keep your pet entertained while you're on vacation is to book a pet sitter. When most people think of pet sitting services, they think about how the pet sitter is going to feed, walk, and care for the pet. However, pet sitters offer much more than that. When your pet sitter comes to your home, they will spend dedicated time with your pet interacting with them and showing them love and affection. You can have your pet sitter stop by your house for 30, 45 or 60 minutes. During this time your sitter can walk your pet, play with them, provide attention and affection, brush them, give them treats, provide fresh food and water, clean litter boxes or cages, and administer any medication that may be necessary. Depending on the needs of your pet, your pet sitting services company could stop by once a day or multiple times a day.
Most people think pet sitting services are only for dogs and cats, but your pet sitter can actually take care of most pets like birds, rabbits, guinea pigs, fish, etc. Your pet sitter will be a trained and certified professional who can treat your pet with exceptional care and love, being sure to keep them active while you're away. To make sure your pet has the best care and is kept busy while you're on vacation, be sure to reach out to a pet sitting services company for more information and to book your pet sitter.