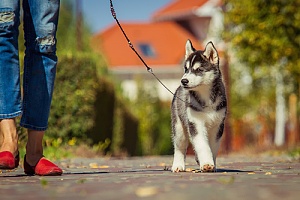 Owning a puppy is a delight for most people, although it also obviously comes with a high degree of responsibility. They need to be taught to behave, fed properly, and walked, among other things. The ability to train a puppy to walk on a leash is a simpler task than you might imagine, however.
It should be noted that most experts recommend against using a retractable leash, as these have often resulted in injuries or other unfortunate incidents. According to Consumer Reports, there were 16,564 injuries in the United States in 2007 that were associated with the use of retractable leashes. Of these, 23.5% were finger-related injuries. Here are some important things to remember when teaching your puppy this basic skill.
Pair The Collar Or Leash With Positive Affirmations
If you associate your puppy's collar or leash with sources of joy for your pet (like treats), he/she will be more likely to positively respond to being walked with it. Just like with young children, never underestimate the power of association and positive reinforcement. Letting your puppy get used to wearing a collar for a few hours indoors.
Teaching And Repeating Unique Cues
Find a sound-based cue to notify your puppy that they are going to be fed, and use it in an area that is relatively distraction-free. This can be the use of a certain word like "here" or a click of the tongue, for example.
Practice Walking Indoors First
Let your puppy walk a few steps inside your home before taking the big leap outdoors. If he/she does this without making any kind of mess, reward him/her with treats.
Start With Small Increments Outside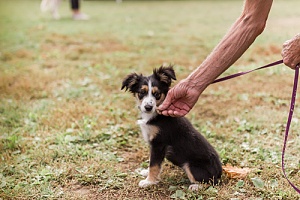 Every new process should always start with a few steps, and walking a puppy outside is no different. Make sure your puppy doesn't get into any major trouble while on his/her first short walk. If your dog lunges at anything while walking (a cat, a person or a car, for instance), redirect his/her attention to something else. Don't ever yank too hard on the leash or drag your pet. If he/she barks while on a walk, this may be a sign of insufficient exercise. Therefore, you should strive to ensure your pup receives the adequate amount of stimulus corresponding to his/her breed and age. According to The Kennel Club, a London-based organization, every puppy should get roughly five minutes of exercise per month of age (up to twice a day), as a general rule of thumb. You should also ensure your puppy is not being walked in an unsafe area or on a full stomach, as he/she may end up bloating.
Bring Treats For Rewards!
If your pup behaves, you will eventually find that you don't need to give him/her as many treats as a reward. Some puppies may even find other sources of motivation, like toys or the company of a specific person.
Work With Trained Walkers From Paw Pals
Reach out to the experienced dog walkers from Paw Pals Pet Sitting to learn more about how to train your puppy to walk on a leash. Although based in Centreville, Virginia, Paw Pals also serves customers in the Chantilly, Clifton, Fairfax, Fairfax Station, Manassas and Reston areas. They support several organizations in Northern Virginia, including Fairfax County Animal Shelter, Friends of the Fairfax County Animal Shelter and the A Forever Home Rescue Foundation.
Founded by proud Australian Shepherd puppy owner Mary Telesz, Paw Pals is dedicated to taking care of pets whenever an owner needs this service (e.g. when they are traveling for long periods of time for pleasure or business). Paw Pals are bonded, licensed and completely insured. They are also PetTech certified in First Aid and Pet CPR, so they can take care of your dog swiftly in the event of an emergency. Their dog walking services include playtime, brushing, treats, fresh food and water and provision of medications if necessary.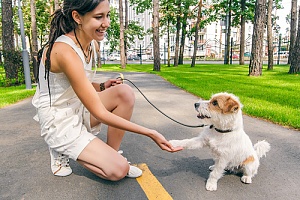 Paw Pals can also walk dogs on weekends and after-hours (10am to 4pm) on weekdays. Prices start at $16 for a 15-minute walk in the case of older dogs. Additional services include dog supply pick-up, dog waste pickup and dog transportation. Paw Pals are also big on safety, so you never have to worry about your puppy being thrust into a precarious situation.
Call Paw Pals Pet Sitting today at (703) 345-1695 or (703) 393-7297 or contact them online to learn more about their services or to schedule a service. Don't let your puppy drag you down, take him/her to Paw Pals instead and he/she will be treated like royalty!