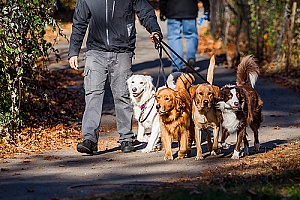 Becoming a certified dog walker can be an exciting prospect, but it comes with a high degree of responsibility, regardless of the breed of dog one has to work with. Additionally, dog walking typically does not just include taking a pet out to get exercise. It also involves ensuring dogs have sufficient food and water.
According to a study by petbacker.com, 64% of dog owners viewed dog walking as a personal reflection of their affection for their pets, and 93% of owners said this activity helped their dog feel less stressed. Unsurprisingly, dog owners have also been found to be more likely to exercise regularly (dogs provide motivation). A 2017 study by Reuters Health revealed that routine dog walkers enjoyed activity levels that were 20% higher on days with adverse weather conditions and were more active for roughly 30 minutes each day compared to individuals who didn't own dogs. The study was conducted among adults from Norfolk in the United Kingdom aged 40 to 79.
How To Become A Dog Walker
Dog walkers earned a median wage of $12 per hour in 2016, per Payscale.com. The United States Bureau of Labor Statistics also predicts a roughly 11% jump in employment for animal care workers during the 10-year period from 2014 to 2024.
Given this, here are some key steps to take as part of the process of becoming a certified dog walker:
Background And Education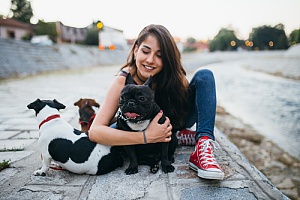 There is typically no high-level education degree required to be a dog walker, although a high school diploma or GED may be demanded in certain cases. High school students can take classes in business and animal science in order to prepare for this type of job. A state driver's license to transport dogs by car and regional permits for use of local parks is sometimes required as well.
Key Personality Traits For Success
A love of animals, attention to detail and a thorough understanding of their various forms of nutrition are among the key qualities to have for being a dog walker.
Dog walkers should also know how to properly pick up and dispose of droppings, be familiar with the use of leashes and other restraints and be able to walk dogs in several types of weather conditions.
Consider Online Or Specialty Courses
Courses in subjects like disease prevention, pet grooming and dog nutrition can significantly help prospective dog walkers become more adept at this type of work. Certain animal organizations also provide certification courses to give people hands-on training with things like animal body language, leash training and first aid. Exams may be administered in certain cases.
Emergency And Welfare Certifications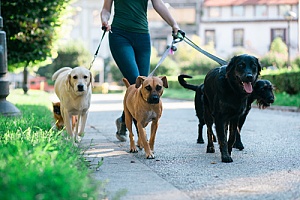 Two types of certification that can help make professional dog walkers even more proficient are those that help said person take care of a dog in the event of an emergency and that tend to its welfare, including its nutrition and overall health.
Liability insurance is also often recommended for dog walkers in the event that something bad happens to them or to the dog. Professional dog walkers who are self-employed may have to document dogs' vaccination history and license numbers.
Animal Training Certification
This type of certification can usually be obtained in entry-level jobs at animal welfare organizations throughout the country. Training programs at these places can teach first-time dog walkers how to control leashed dogs and adequately dispose of their manure, among other things.
Review Paw Pals For More Info On How To Become A Dog Walker
Speak to the experienced professionals at Paw Pals Pet Sitting to learn more about dog walking certification requirements. Although based in Centreville, Virginia, Paw Pals serves customers in Chantilly, Clifton, Fairfax, Fairfax Station, Manassas and Reston.
Paw Pals' midday dog walking prices start at $16 for the first dog for a 15-minute visit, and $2 more for each additional dog. This includes walking, playtime and providing treats, food, water and medication. Weekend and after-hours dog walks are also permitted at Paw Pals for owners with atypical work schedules. Additional services include dog supply pick-up, dog taxi service, dog waste pickup and garden watering. In cases of inclement weather, a $20 fee can apply.
Founded by Centreville dog walking native and proud Australian Shepherd puppy owner Mary Telesz, Paw Pals is dedicated to providing personalized pet sitting and dog walking services. Paw Pals is bonded, licensed and completely insured. Their professionals are also PetTech certified in both First Aid and Pet CPR. Call Paw Pals today at (703) 345-1695 or contact them online for more information about their services. They will keep any personal information you submit to them completely confidential.