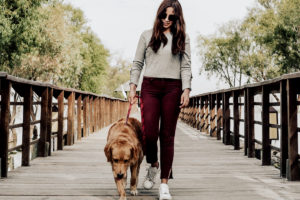 Dog owners know the importance of going for a walk with their dogs. Walking your dog at least twice each day does wonders for your dog's wellbeing. It supports your dog's mental health and lets your dog release energy and burn calories. Have you ever wondered how many calories your dog actually burns during your walks? You may be surprised to learn that we really do not know for sure!
Calorie Burning In Dog Walking
We do know that dogs, like all animals, burn calories when they exercise. The faster they move, the more they burn. Exactly how many they burn during a walk is largely speculation.
The 70/30 Percent Rule
Vets and other animal health specialists use the 70/30 percent rule of thumb to estimate the number of calories dogs burn. The 70/30 rule holds that pets that are subjected to regular exercise regimes lose 70% of their calories due to what is referred to as calorie restriction (i.e., eating less) and 30% due to loss from physical exertion.
Calorie Burning in Dogs
Some studies have been done on calorie burning in dogs, but the results are not definitive. One study determined that a dog walking at a pace of 3.7 to 4 miles an hour (which is the rough equivalent of a 15-minute mile—not a pace that most dog owners can maintain) will burn only .8 calories per pound per mile. By extrapolation, you can estimate that a small to average-sized dog will burn about 64 calories in a single 1-hour walk.
Another study subjected a dog to a higher level of physical exertion. In that study, a 22-pound dog was monitored while walking on a treadmill at a robust pace while submerged in 10 inches of water. That study found that the dog would burn about 64 calories in just 30 minutes at a pace of 6.8 miles per hour. For humans, this pace is only slightly slower than that of a marathon runner!
If you are the owner of an overweight dog, do not try to subject your dog to a high level of exertion. Your dog will not be able to endure it (you probably cannot either), and you will likely be doing more harm than good to your overweight dog. Help your dog lose weight by beginning a healthy weight management program that involves a healthy balance of diet and exercise. Work with your vet to find the best weight management regimen for your dog.
Calorie Burning in Cats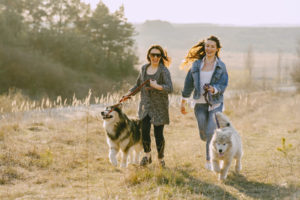 Little is known about calorie burning in cats. For an average-sized adult cat, the ideal weight is 4–5kg, or eight to ten pounds. The best way to manage your cat's weight is to manage how many calories your cat is consuming. Consult with your vet to determine the ideal daily calorie intake for your cat. It will depend on your cat's life stage and its ideal weight (considering life stage, breed, gender, and other factors). Neutered cats require fewer calories per day than intact cats to maintain body weight. Also, kittens have a much higher calorie requirement than adult cats.
Don't Underestimate The Benefits Of Walking Your Dog
Just because your dog is not burning many calories during a walk, you should not underestimate the benefits it provides to your dog. A walk provides the foundation of your dog's mental and physical good health.
Going for a walk with your dog appeals to your dog's instinct to be part of a team with you. Also, by exposing your dog to new situations, your dog will become more adaptable to things in the world, and your dog will regard you as its teacher and protector. Walking reinforces that sense of partnership in your dog and fortifies the bond between the two of you.
As indicated earlier, walking your dog burns off excess energy in a way that letting them out in your backyard will not. Regular walks will help your dog relax at home. You will find that a relaxed dog is easier to train and better behaved at home.
Think of your dog as an athlete. Most dogs need an hour of physical activity each day to help them stay in optimal health free of disease. Certain breeds, such as working or herding breeds, need more than an hour every day. Regardless of the breed or size of your dog, research shows one clear fact: sedentary dogs usually become overweight dogs. Overweight dogs eventually develop a host of health problems, such as joint problems and heart disease. Daily walking is the best way to keep them happy and healthy.
Help Your Dog Burn More Calories With The Dog Walking Team At Paw Pals!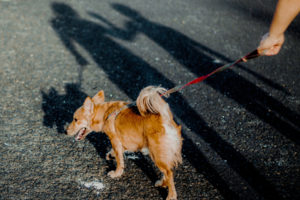 The benefits of walking your dog every day are many. However, many dog owners have such busy lives that it is not always possible to keep up that schedule. The dog walking professionals at Paw Pals are available to help you fill that need. They know how to walk dogs in a way that provides just what your dog needs from it. Whether you need help on an occasional basis or as part of a regular routine, the Paw Pals dog walking team is there for you and your dog.