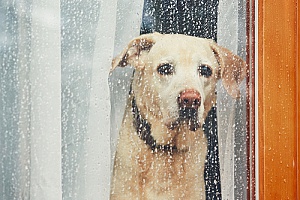 Getting your dog to go on a walk in the rain can be a challenging task if your dog doesn't like the rain. You should pay close attention to your dog when it's raining outside to try and figure out what exactly they don't like. Some dogs have a fear of thunder and get extremely agitated and anxious when it's storming. For these dogs, you'll have to work to ease their anxiety by giving them praise and treats. Other dogs simply don't like getting wet. Determining what bothers your dog most about the rain can help you find the right solution for them. Here are nine ways to encourage your best friend to step outside for a walk or play.
1. Help Your Dog Stay Dry
Just like you don't want to get wet in the rain, neither does your dog. Most dogs tend to not like the rain, they prefer staying in shelter where it's dry. One solution to this is to buy a large umbrella that is big enough to cover both of you. You can also find dry spots for your dog to do their business. Look for spots under trees, between buildings, or under covered areas.
2. Go to a Dog Park
Often times people take their dog on long walks to help tire them out and burn off excess energy. If this is the case for your dog, you're probably far less inclined to take a long walk in the rain. Instead, you can take your dog to a dog park and allow them to run around. It's unlikely other dogs will be there so you can probably let your dog off their leash. However, this could mean your dog gets a little muddy, so it's best to have some towels handy when you get home.
3. Cover Your Dog Up
You can get a raincoat for your dog. Not only will this help keep them dry, but if you get one in a bright color or with reflective strips, it will ensure that your dog is visible to you and others around you.
4. Reward Them
When you get home from a successful walk in the rain, be sure to get your dog a treat so they start associating walks in the rain as a positive thing. If you get lucky, your dog may even start to look forward to rainy day walks. You can also offer them praise when you start the walk and throughout to let them know you are happy with their behavior.
5. Dry Them Off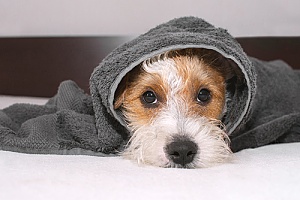 One of the reasons your dog might not like going out in the rain is because they dread staying wet. As soon as you come in from your walk, be sure to use towels to gently dry them off. Pay special attention to delicate areas such as their chest and paw pads. This will help them feel more comfortable when they return home.
6. Don't Leave Your Dog Outside
While it's fine to talk your dog out for a walk in the rain, you shouldn't leave your dog outdoors for an extended period of time. This will only lead to them disliking the rain even more and making your job the next time you have to walk them even harder. Consider shortening the length of your normal walks to reduce the time your dog is exposed to the rain.
7. Get a Dog Umbrella
There are special umbrellas for your dog that are available for purchase. Some look more like a raincoat, but others are actual umbrellas that can be attached to your dog with a harness. Some dogs find this much more preferable to raincoats because it doesn't restrict their movement.
8. Rain Boots
Some dogs have extremely sensitive paw pads and when they are wet for a long period of time, they can get irritated and annoy your dog. Dog boots are intended for snow, but they can do wonders for making your dogs walk in the rain more enjoyable.
9. Hire Dog Walking Services
If your dog is really persistent about not wanting to walk in the rain, or you just don't want to get wet yourself, you can use dog walking services. Your professional dog walker will be trained and certified and know how to handle your dog in the rain and also be safe. Dog walkers are extremely handy if you have to go out of town or if you are away from your house for long hours during the day.
Your dog doesn't want to be cooped up inside.Having a dog walker stop by will make sure you have a happy, healthy dog even when you're busy. If you have to go out of town, or are often unavailable to walk your dog because of your busy schedule, you can also utilize pet sitting services. Your dog walker will work with you to create a schedule that is beneficial for your dog. They can stop by on a regular basis. Schedule a meeting with a dog walker from Paw Pals Pet Sitting to learn more about how dog walking services can encourage your dog to venture out in the rain.