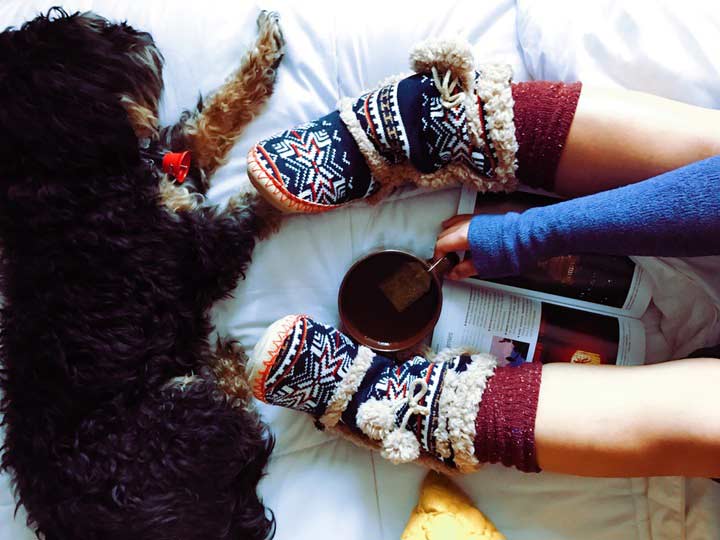 For many people, fall and winter are favorite times of the year. Between pumpkin spice everything, sweater weather and the holidays, there is so much to enjoy in these seasons. But for our four-legged companions, fall and winter mean something a little bit different — which is why it is up to pet owners to take extra caution during these months to protect their favorite companions.
Grooming
Most dogs and cats shed their summer coats in the fall, before putting on a thicker, heavier coat for the winter. Help your pets during this process with regular brushing, every day or every week as needed. Not only will this make your pet happy, but you will find yourself doing a lot less cleaning by brushing out the fur yourself instead of sweeping it up later!
You should also avoid shaving your dog's fur too close during the fall or winter. While it may be tempting to help rush up the shedding process, remember that fur is our pets' primary means of protection from the elements. A close crop may look nice, but it could be dangerous to animals who do not have any other means of staying warm.
When it comes to your pets' paws and coats, remember that different weather conditions can have an impact on their overall health. Some of the things that we use to keep ourselves safe — like salt on roads and sidewalks — can be harmful to our pets. When your dog or cat comes in from the outdoors, be sure to remove ice, snow, salt from their coats and paws as soon as possible. If their skin looks reddish, white or gray, or is scaly or peeling, contact your veterinarian immediately. Check the paw pads for cracks or redness. It is possible that your pet has suffered frostbite if he or she was out too long in extremely cold temperatures. You could also try massaging an ointment — such as petroleum jelly or bag balm — onto your pet's pads before going outside. It provides a layer of protection that can aid in preventing frostbite or irritation from salt or other harsh chemicals.
If you decide to take your pet on a walk when it is cold, wet or snowy, remember to bring a towel along. You can wipe off your dog or cat's paws as you walk to alleviate a cold, stinging sensation. When you get back inside, thoroughly dry off all four paws and your pet's stomach, removing any hanging ice balls or snow to help keep your pet warm and comfortable.
Protection from the Elements
With fall and winter come colder temperatures — and even snow and ice, depending on where you live. If your pet largely resides outdoors, be sure to provide them with a dry shelter that is out of the wind. Bring them inside during severe weather, which includes rain, snow, or any type of extreme temperature. If your pets stay inside, make sure that your pets have a warm, dry area to stay and sleep. If your dog or cat sleeps on the floor, consider buying bedding to keep him or her off of cold, drafty floors, and make sure to wash the bedding frequently.
When your pet is outside in cold weather, protect him or her from the elements with a winter wardrobe. While their furry coats offer protection against the elements, it may not be enough. It may seem silly, but responsible pet care often includes buying some accessories for your dog or cat. This could include special booties to protect their paws from frostbite, ice and salt, a coat or even a hat. Pay close attention to the condition of your dog or cat's pads, looking for firm, waxy skin or blisters — both are signs of frostbite.
You should also follow a simple rule when it comes to being outside in the colder months. If it is too cold for you, it is likely too cold for your dog or cat. Providing responsible pet care means making sure that your pet isn't outside when conditions are harsh or the cold is severe.
Changing Diets
When it's cold, our pets may require a little extra food to help keep them warm. Their bodies might expend extra energy — and therefore calories — to stay warm. During the fall and winter, their daily food intake may need to be increased accordingly to give them the energy to stay warm. However, indoor pets may actually expend less energy as they exercise less and may even sleep more. Their diets may need to be adjusted to prevent them from gaining weight during the fall and winter when they aren't outside as much. Your veterinarian can guide you to making good food choices for your pet during the fall and winter months.
For water, remember that having fresh, clean water is essential to pet care no matter what time of the year it may be. Even inside pets may find that their water bowls develop a thin layer of ice. Whether your pets' water bowls are inside or outside, check them regularly to be sure that they are not iced over, and remove the ice to give your dog or cat access to fresh water.
Avoiding Hazards
Fall and winter both bring unique hazards to our pets, many of which come from the very things that we humans like most about the season's holidays. Whether the hazards come from food, drink, decorations or the temperature change, staying on top of these hazards is the key to providing excellent pet care.
Holiday food is a prime example. While adults and kids alike love Halloween candy, it isn't good for your pets — especially chocolate. Be sure to keep all candy up and out of your pets' reach, and call your vet immediately if you suspect that your dog has eaten chocolate. Other holiday food for Thanksgiving and Christmas can be similarly dangerous. Alcoholic beverages, candy, bones from meat and fish can all be hazardous to your pet's health. This is true even if none of these items are toxic to your pet — well-meaning guests can easily overfeed your dog or cat, leading to vomiting, diarrhea and other sickness. Let holiday guests know that they should only give your dog or cat "people food" if they ask you first — or simply tell them that your pets don't eat table scraps at all, and keep your pets away from the holiday table.
Decorations always carry a substantial risk of danger for dogs and cats. Some favorite holiday plants are actually toxic to pets, such as poinsettias, mistletoe, holly and Christmas roses. If you have them in your house, be sure to keep them out of your pets' reach. If you suspect that they have ingested one of these plants, take them to your veterinarian as soon as possible. Similarly, non-edible decorations can pose hazards to your pets. Everything from electrical cords for lights to candles to ribbons to wrapping paper, tinsels, ornaments and spray-on snow can be dangerous to your beloved animal companion. Make sure that your pet does not chew on any of these items — and cover up electrical cords to keep them away from curious cats and dogs. Never tie ribbons or other festive trimmings on your pets; it could be dangerous for them if it gets caught on something or if they get tangled up.
Beyond holidays, the colder weather can present hidden dangers for pet owners. Cats in particular love to curl up in warm spaces, such as on radiators or even on car engines. Make sure that your pet isn't on too hot of a spot to avoid burns — and always check under the hood if you can't find your kitten and suspect that he or she might be napping on the engine. Also in the garage, be aware that many animals like the taste and smell of antifreeze. Be aware that even small amounts of this toxic chemical can kill a pet. This can happen in a completely unintentional way, such as if your pet walks through a puddle of antifreeze and then licks its paws.
Worst of all, the symptoms of antifreeze poisoning do not show up for several days, so you may not ever know that they have ingested it until it is too late. That's because the chemicals from the antifreeze form crystals in the kidney, which is what ultimately leads to death. The best way to protect your pet from accidental antifreeze poisoning is to either purchase non-toxic antifreeze, or be incredibly careful about using regular antifreeze. This includes immediately and thoroughly cleaning up any spills and storing antifreeze in containers on high shelves where your pets cannot reach them. If you suspect that your pet might have ingested antifreeze because it is convulsing or acting intoxicated, contact your veterinarian immediately.
Pet Health Help From Pet Care Professionals
If you want to keep your pet safe and happy this fall and winter, follow the above tips to avoid many of the dangers associated with fall and winter. You may also consider using the services of a pet care professional, who can provide pet sitting or dog walking to your beloved companion throughout the cold weather months. Contact Paw Pals today to learn more about our pet care services!