Having a dog can make winters tough. In warmer weather walking the dog in the evening is pleasant, but in winter it can become a chore. Likewise, many of your favorite activities to do with the dog become more difficult. Read on to learn some of the best winter activities for dogs.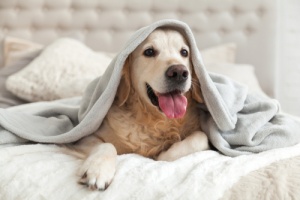 To make matters worse, without their usual outdoor activities, dogs have to find some other way to burn up all that energy. When they are cooped up inside all winter, that can become very frustrating. And, of course, it is simply bad for their health to spend months on end with no real exercise.
If you are struggling to figure out what to do with your energetic dog over the winter months, you have come to the right place. We have put together a list of our favorite winter activities to do with our dogs, and we are sure you will find one that works for you.
5 Winter Activities For Dogs
All of these activities are sure to be fun for your dog, while also providing a great way for them to use up all of that extra energy and keep themselves in good health.
Indoor Agility Course
Agility courses are great because they provide an opportunity to reinforce your bond with the dog and your status as the pack leader, while also engaging the dog's mind and keeping them active. Plus, it is a lot of fun for you to watch your dog go through an agility course.
It is not hard to build your own indoor agility course. Create tunnels by draping large sheets or blankets over towels, leaving one end loose as a flap for your dog to push through. You can set up obstacles for them to jump over by using rolled up blankets, narrow shelves, and empty boxes.
It can take some time to train your dog to navigate an obstacle course, but it is a fun and rewarding exercise for both of you.
Stair Climbing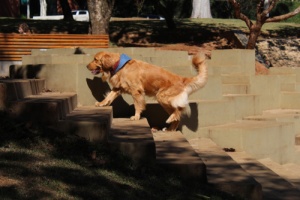 Stair climbing is just as effective of a workout for dogs as it is for humans. It works their shoulders, hips, back, and legs while being gentler on their joints then most other exercises. That makes it an especially good exercise for older dogs, even if it seems counter-intuitive.
Many dogs will simply follow you up and down the stairs, so you can get your own workout in while you exercise the dog. Other dogs may need more encouragement, but as long as you have a few small treats around there should be nor problems.
Just remember that it is a very intense workout; keep a close eye on your dog to be sure you do not overwork them.
Hide & Seek
The game is simple: wait until your dog is distracted, and hide. Then watch as your dog tries to find you. If your dog has been trained to stay, have them stay in a spot that will obstruct their view of you. Once you've hidden yourself, tell them to come.
You will be shocked at how quickly your dog learns the game and figures out your preferred hiding spots. In addition to getting your dog moving and stimulating their mind, it also creates a nice bonding experience for you and the dog.
By rewarding them with a treat every time they find you, you teach the dog that it is rewarding to stay close by you. This can come in handy later when the weather warms if you like to take your dog to parks with off-leash areas.
Dog Dish Mazes
These are dog dishes that look like mazes. Instead of a simple bowl that allows your dog to eat their food as quickly as they want, these bowls force your dog to eat slowly and figure out how to get their food out of the bowl.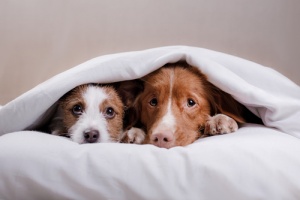 This is a great way to engage your dogs mind while they eat, and it is also good for their health. Eating their food too quickly can cause a lot of health problems for dogs. They can choke on it, of course, but it can also cause bloating, which can be fatal.
Play With Bubbles
The concept is the same as playing with bubbles for children. Blow bubbles, and let the dog play with them. You will have endless fun watching them try to catch the bubbles, and you will enjoy it even more because it requires very little energy on your part. It is a perfect activity after a long, tiring day.
Stuck At Work?
It can be hard for us to spend enough time with our dogs and exercise them properly. Working full time almost always requires leaving the dog home alone for hours at a time, and that is hard for you and your dog.
One of the best things you can do to make your life and your dogs life easier is to hire a professional dog walker who can make sure your dog gets the exercise it needs even when you have to work late.
Talk To A Professional Dog Walker Today
If you are worried about your dog not getting enough exercise, speak to the professionals at Paw Pals today. They can talk to you about their professional dog walking and other services and help you determine if a professional dog walking service is right for you.