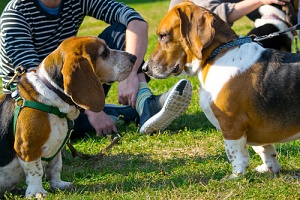 A dog meet-up is one of the best ways that both you and your dog can have some fun together. It is a fantastic way for you to meet other dog owners and give your dog a chance to socialize with other dogs. Everyone benefits. You get to meet new dog lovers and your dog gets to romp and hang out with other dogs. You'll both get some fresh air and a little exercise. You will learn about available resources that can help you be the best dog owner you can be. Here are some of the best dog meet ups in Northern Virginia.
Shirlington Dog Park
S. Arlington Mill Drive, Arlington, VA 22206
Sundays 10:15 am – 1:00 pm
Join a group of Australian Shepherd lovers every Sunday morning at the Shirlington Dog Park. If your furry friend is a puppy, or a small dog, go to the small dog park within the larger dog park. Give your puppy lots of safe opportunities to meet new dogs and have new experiences. It is a wonderful way to teach your puppy confidence and learn to socialize. It can play with other small dogs and puppies.
Montrose Park
Georgetown Little Dog Meet Up
3099 R Street, N.W., Washington, D.C.
Sundays 11:00 am – 12:00 pm
Montrose Park in Georgetown is the perfect place to go with your little dog. You'll see the group on the great lawn near the big tree on the right.
Paw Pals in the Park
Fairfax, Virginia
Time and location varies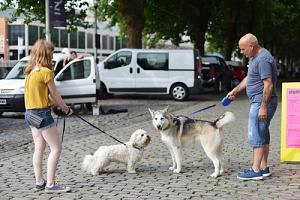 Paw Pals in the Park is a group of active dog owners who like to meet for on-leash walks to explore and enjoy area parks. The time and place change each month. These meet-ups provide exercise for you and your furry friend, as well as a place for socialization and the opportunity to meet new two-legged and four-legged friends. It is a great location for dog walking in Fairfax. Contact Paw Pals for more information.
Puparatzi Parties
Whole Dogz
Eisenhower Avenue, Alexandria, Virginia
Time varies
This group is for dog lovers who want to socialize their dogs and have fun at the same time! They meet for a well-attended "Yappy Hour" at Whole Dogz, and they plan to meet at other dog-friendly venues. Join the group for supervised indoor play for big and little dogs and puppies. You can get professional pet photographs, doggy treats, give-aways, raffles, and refreshments. Every dog leaves with a prize! There is a fee of $10 per dog, and they donate items to the local Animal Shelter and Animal Charities.
Manassas/Fairfax Dachshund Group
Every second Sunday of the month, 12:00-2:00 pm
The location available to members only
Dachshund owners who join this group will have lots of opportunities to take their doxies to play with other doxies at a nearby location. The group events also include parties for the humans, too.
Obedience Workshops and Classes
Manassas, Virginia area
Time and location varies
Join this group for free and learn about the various group events led by an experienced dog trainer. The group is for dog owners who want some assistance in basic and intermediate dog obedience training and walking in the Manassas area in various dog-friendly locations. The locations may be a park, walking through Home Depot, or some other location that will challenge your dog and your own dog-handling skills. Members will learn and perfect basic obedience skills. Young and old dogs are welcome. Classes and events vary by skill level, ranging from basic/beginner to more experienced. All events occur in the evenings or weekends.
Running (or Walking) with Your Dog
Alexandria, Virginia area
Time and location varies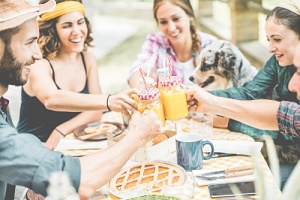 Meet with other dog owners who want to run or walk with their dog for general fitness or to lose a couple extra pounds (both you and your dog). Runners and walkers are both welcome.
The goal of the group is too share dog-friendly races in the area and to provide a forum so that dog owners can meet and train together.
DC Area Active Dogs Happy Hour and Play Group
DC Area
Time and location varies
This group is for dog owners in dc who enjoy taking their dogs out and meeting other dog owners. They have dog happy hours, dog hikes, dog play times, and other activities. To participate, your dog must be well-socialized and friendly towards other people and dogs.
Contact Paw Pals For More Information On Best Dog Meet Ups in Northern Virginia
These are just a few of the many opportunities for best dog meet up in Northern Virginia. If you are looking for more opportunities for dog meet ups, such as breed-specific meet up events, call Paw Pals for information. Paw Pals keeps up with the many different pet-loving groups and ongoing area events.
If your work schedule keeps you away from your four-legged companion all day, Paw Pals can help provide your pet with the attention it needs while you are gone. Paw Pals pet sitters are bonded, insured, and trained in basic animal health care. They provide professional pet sitting and dog walking services and they are happy to discuss your needs with you.