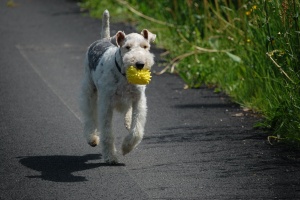 The time you spend on training your dog is never wasted. It will result in a stronger bond between the two of you, and it can help keep your dog safe from injuries. Establish a good foundation for off leash training by doing basic obedience training. Basic training will better enable you to advance to the point of being able to go out with your dog off leash. Whether or not you intend to ever let your dog off leash in a public area, off leash training is important so that you know what to do if your dog manages to slip away from you and run off.
1. It Is Going To Take Time
At the outset, you need to set realistic expectations for yourself and your dog. Off leash training takes time to perform, and it takes time for your dog to respond reliably. It is unfair to your dog to expect perfection immediately. Your dog's cognitive abilities are similar to those of a two-year old child. It takes time and a lot of positive reinforcement. If you need the help of a professional trainer, by all means, do it.
2. Establish Good Behaviors Before Going Off Leash
Work with your dog on basic training in a familiar and safe environment. Usually, inside your home is most comfortable and has the least amount of distractions. Work on basic commands such as sit, come, and stay. Use lots of positive reinforcement with treats and toys, and keep negative reinforcement to a minimum. Never hit your dog.
Once your dog responds reliably to your commands, you can increase the difficulty by doing the training in your backyard and in more public places. When you go outside, do the training with your dog on the leash.
3. Start Training Using A Long Leash
Begin off leash training when your dog usually comes when called despite the distractions that may be occurring. You can now increase the difficulty by increasing the distance between you and your dog. To do this safely and ensure success, you will want to have lots of treats in your pocket and a leash that is at least twenty feet long. These are available at most pet stores or online, or you can attach three six-foot leashes to each other to make one long leash.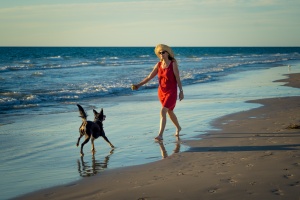 In a familiar environment with fewer distractions such as your backyard or other confined area, attach your dog to the leash and have them stay. Lay the leash out on the ground and walk towards the end of it away from your dog. Turn to the dog, stand in a crouched position, and call them in an excited, inviting tone, and show them the treats if necessary. Keep calling your dog until they begins to come to you, then begin praising it. Give them lots of rewards when they gets to you. Then have your dog stay, and repeat the process going another direction.
If your dog does not come, you can use the long leash. Call your dog again and give a gentle tug on the long leash, then release it. Praise your dog as soon as they takes a step toward you. Repeat the process until your dog gets to you, and give them lots of praise.
The long leash is there only to help your dog realize they has no option but to come to you whenever you call and to prevent them from running off. It is not to be used as you would use a typical dog-walking leash.
Stop the exercise when your dog seems to be getting bored and easily distracted. Resume training the next day, and continue it until your dog comes when called without the use of the long leash.
4. Use Simple Command Words Consistently
Your dog does not care what word you use as your command word. Choose the command word that works for you. In time, your dog will associate the word with the behavior you are requesting. The command words "come," "sit," and "stay" are the usual words for those commands.
Whatever word you choose, you must use it consistently. If you train your dog to come using the word "come," you cannot expect your dog to respond to the word "here." Also, if you use the two words intermittently during your training, you will confuse your dog. Choose one command word, and use only that word.
5. Practice In An Off Leash Dog Park Or Safe Open Area
Eventually, you can train with your dog off leash. When you are working with your dog off leash, be sure you are in a safe environment—one that is safe from car traffic, dog fights, and other dangerous distractions.
6. Know What To Do If Your Dog Runs Away
Anticipate that your dog will run after something when off leash. You need to know what to do: call it, coax them back to you with treats or toys, refrain from chasing it, and praise them when they returns to you.
Keep Your Dog's ID Tags And Microchips Updated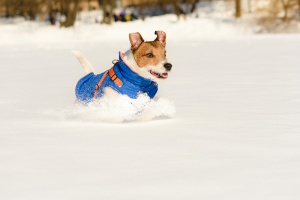 Despite all of the training, there may be times when your dog takes off and does not return. Something may have frightened your dog into a panic and they ran away, then got lost. Or they may have chased an animal and gotten itself injured. Eventually, someone is likely to find it. The best way to ensure your dog gets returned to you is to keep its ID tags and microchips updated. You can even outfit its collar or harness with a GPS so you can track it yourself.
Consult With the Dog Walking Experts At Paw Pals
Off leash training requires lots of time working with your dog while out on walks. If you need help, reach out to the dog walking professionals at Paw Pals. They can assist you by making sure your dog gets regular and consistent walking with safe off leash training.