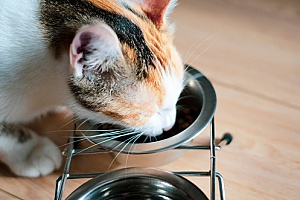 It is no secret that cooking your own meals is significantly healthier than eating at a restaurant. You have complete control over the ingredients and portion sizes. The same is true for feeding your cat homemade food. By cooking the food yourself, you can source the best ingredients. You can also be sure that everything you feed your cat is organic, if you like.
Preparing homemade cat food also allows you to know exactly how much protein, fat, and vitamins are in their diet, while at the same time avoiding cheap fillers. Most commercial cat food has grains or starchy vegetables in it to add bulk, but cats are obligate carnivores. Their digestive system is not meant to handle plant matter, and those grains and vegetables in their food contain no nutritional value for them.
5 Homemade Cat Food Preparation Tips
Preparing your cat's food yourself can be much healthier than buying cat food, but it can also be challenging. Cats have very different nutritional needs than we do, and so preparing cat food will be very different from cooking for yourself. Here are our best tips for making homemade cat food.
Par-Cook the Meat
Cats are carnivores, they need to eat meat. Many people advocate for raw food for cats because the meat can lose nutrients when cooked. The problem is that raw meat can contain parasites and bacteria, which could be harmful to your cat.
The solution is to heat the meat just enough to kill the bacteria on the surface. This is called par-cooking, which is short for partial cooking. The meat will still be raw, but it will be sanitary for your cat. Beef, pork, and liver are all good choices that will provide lots of protein and nutrients. In addition to par-cooking, make sure that you are practicing proper kitchen hygiene throughout the entire food preparation process.
If you have a sous-vide device, you can actually pasteurize the raw meat. All you need to do is hold it at a certain temperature long enough to be sure to kill any bacteria or parasites.
Avoid Added Animal Fats In Your Homemade Cat Food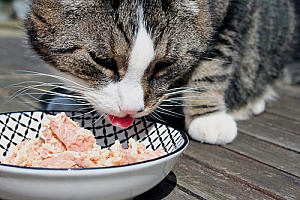 If you are feeding your cat meat such as beef, pork, or chicken, you should not need to add additional fats to their food. The fat in the meat should be plenty. Fish oil or flaxseed oil for additional Omega-3s might be a good idea, though.
Sometimes you will see recommendations for adding extra beef, pork, or chicken fat to the food, or huge amounts of fish oil. Most of the time these are suggested as ways to keep their coat shiny or make sure they have plenty of energy.
While cats do need animal fat in their diet, it is important to remember that meat already has fat in it and on it. Fats are added to commercial cat foods because the meat in those foods is usually highly processed, almost pure protein. Fat has to be added back in.
If you are feeding you cat whole, fresh meat, the only fats you should consider adding to their food are moderate amounts of fish or flaxseed oil.
Feed Them Fish
It is something of a cliche to talk about cats loving fish, but they do. Not just because fish are delicious and full of healthy fats, either. Fish contain many important nutrients.
Small fish like anchovies and sardines are especially good. Not only are they very rich in healthy fats, but they have a lot of calcium and phosphorous, too. Your cat needs both of these for strong bones and teeth, as well as several metabolic processes. Small fish are a great way to include these important minerals in your cat's diet, and one that they are sure to love.
Include Vitamin A
Liver and kidneys are excellent sources of vitamin A, as is halibut. Liver is also a good source of vitamin D. Luckily, cats like liver a lot more than most humans do. So, including liver in their diet should not be a problem.
Provide Supplements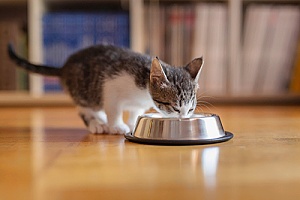 Vitamins like A, D, and E along with minerals such as calcium and the amino acid taurine are all things you might consider adding as supplements. It can be very difficult to get a cat to swallow pills, but fortunately these should all be available in powdered or liquid form. You can mix them in with the cat's food or even with your cat's drinking water.
Reach Out to Paw Pals For More Info On Homemade Cat Food
If this all seems a bit overwhelming, or you are not sure if you can handle preparing food for your cate every day, Paw Pals is here to help. In addition to our regular pet sitting and dog walking services, Paw Pals can also make you quality homemade cat food, and take all the stress out of it for you. Contact us today to ask about our cat sitting services.