Paw Pals pet sitting services are highly flexible and customizable to keep your pets happy, stimulated, and healthy while you're away. With our pet sitting services, we strive for happy pets AND happy pet parents. Our pet sitters are all highly trained and are PetTech certified in Pet CPR and First Aid—meaning you can rest easy knowing your best friend is in good hands. Paw Pals provides a wide variety of pet sitting services both in-home and out-of-home for dogs, cats, and other small pets around Northern Virginia.
Vacation Visits (Non-Overnight) Rates and Prices
Keep your pets happy in their regular routine. Professional, guaranteed care for when you travel,
eliminating stress for both you and your pets. We will take care of your pets and take care of minor
household tasks while you are away, such as bringing in papers and mail, alternating lights,
opening/closing blinds, watering plants. (Excessive plant watering may incur an additional charge. See
House Sitting/Garden Watering Services)
Please note, for the well-being of your pets, dogs require at least 3 visits per day, and cats require at
least 1 visit every 24 hours. Visit durations may be mixed. Homes with both dogs and cats will usually
be charged only the dog visit rate. Homes with only small critters and birds (rabbits, guinea pigs, birds,
and fish) will usually be charged the kitty visit rate. Otherwise these pets can usually be cared for at no
additional charge at the dog or kitty rate.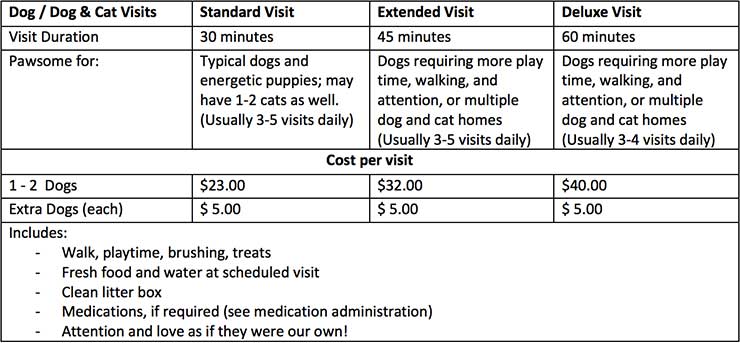 Overnight House & Pet Sitting Rates and Prices
A Paw Pals pet sitter will stay with your pets overnight. Overnight stays are for 12 hours with arrival
times between 7-10 PM. Included is a 30 min. walk for your dogs in the evening and in the morning.
Additional mid-day visits may be scheduled as needed.
Note: Subject to sitter availability.
Cost: $80.00 per night for 1-2 dogs. Each additional dog $10.00 per night
Pet Sitting Includes
Walks, playtime, brushing, treats
Fresh food and water at scheduled visit
Clean litter box
Medications, if required (see medication
administration)
Attention and love as if they were our
own!
House Sitting Includes
Bringing in papers, mail, and packages
Watering house plants
Opening/Closing blinds
Alternating lights
Taking out/Bringing in trash and
recycling
Bed & Biscuit Overnight Pet Sitting Rates and Prices
Your well-behaved dogs may stay overnight at a Paw Pals pet sitter's home. Stays are for 24 hours, and
include three walks a day, feeding, a comfy bed, and lots of TLC. Dogs are treated as part of the family
when they stay with one of our sitters. Additional fees may be assessed if the sitter picks up or drops off
your pets. (See Pet Taxi Service)
Note: Subject to sitter availability, and guest dogs must be social, friendly, housetrained, and be
current on their shots and flea and tick medication.
Cost: $75.00 per 24 hour period for 1 dog. Each additional dog $25.00 per 24-hour period
Please take a look at our Miscellaneous Services and Fees document for more information about our other pet sitting services.
2017-2018 Holiday Schedule